Exhibitions

11:00-18:00
ArtLab B
The outstanding Catalan philosopher and theologian Ramon Llull (c.1232–1316) encourages us to reread the late Middle Ages. Llull, not only theoretically and linguistically invented a new method of knowledge acquisition, like an engineer, he also mechanized it, and translated it into a machine. The EPFL instance is curated by: Prof. Dr. Amador Vega, (Universitat Pompeu ...
Read more about "Thinking Machines. Ramon Llull and the ars combinatoria"
By
Prof. Dr. Amador Vega, Prof. Dr., CEO and Director Peter ...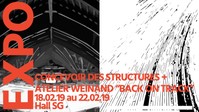 08:00-15:00
Hall SG
Exposition des travaux des étudiants en architecture produits lors des cours "Concevoir des Structures" (BA5) et l'Atelier Weinand "Back On Track" (MA1). Dispensés le long du semestre d'Automne, ces cours permettent de découvrir et d'approfondir la conception de la structure par l'exercice du projet architectural. Les sujets de cette année concernent des programmes sportifs de ...
Read more about "EXPO Concevoir des Structures + Atelier Weinand "Back on Track""

Archizoom
CO-OPERATE En réunissant des constructeurs, architectes, agriculteurs, artistes, artisans et ingénieurs convaincus que l'empathie et la collaboration sont la base de tout travail de qualité, le bureau d'architecture Case Design de Mumbai créée les conditions qui permettent d'édifier des lieux dédiés à l'hospitalité, l'interaction sociale, la réflexion, le jeu, les rituels, l'isolement, l'efficience et le ...
Read more about "Case Design - A School in the Making"