Blue Brain Seminar - Engineering brain-wide activity patterns for therapeutics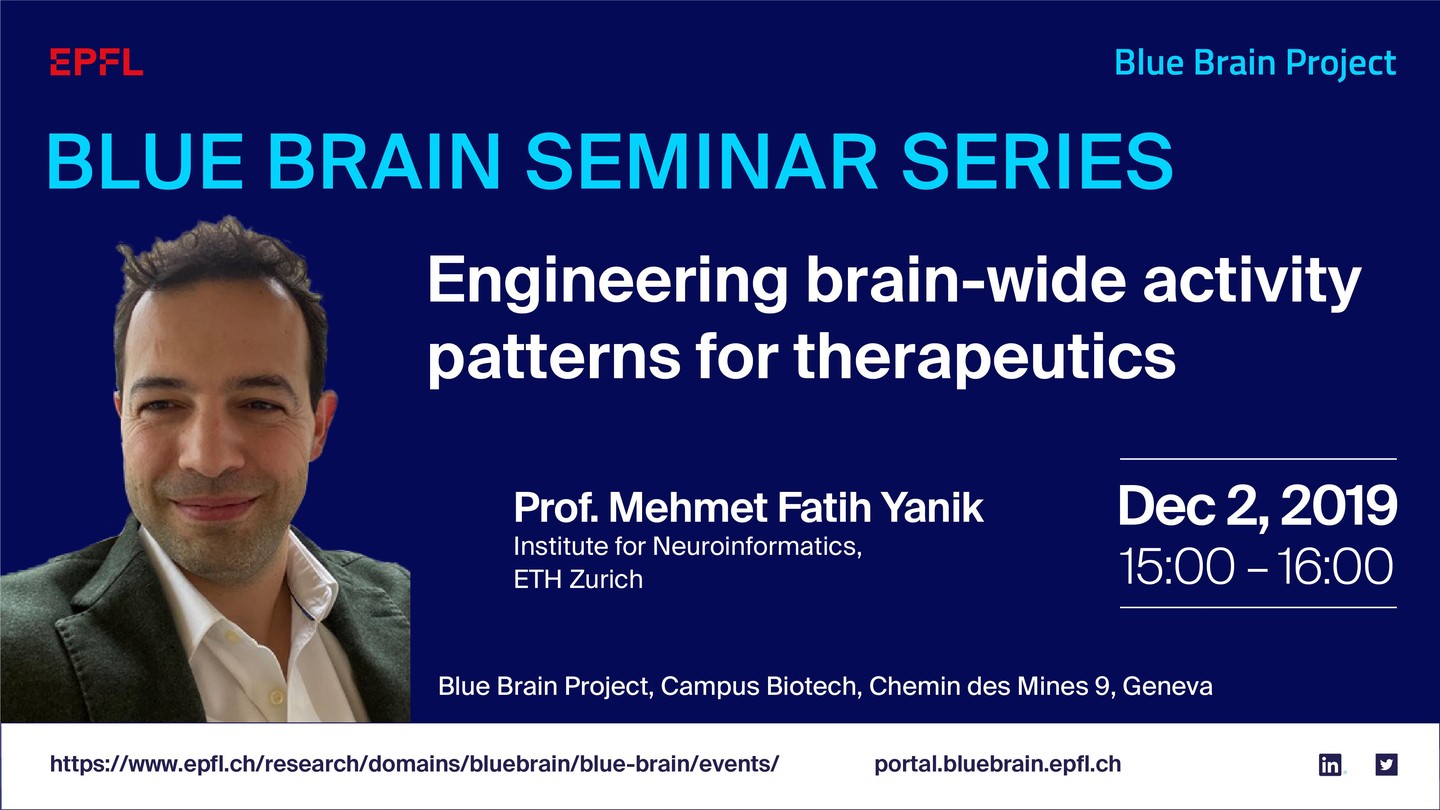 Event details
Date and time

02.12.2019

–

15:00

›

16:00

Place and room
Speaker

Prof. Mehmet Fatih Yanik

Category
Conferences - Seminars
Blue Brain is delighted to announce that the next seminar in the series in Neural Computation, will be on 'Engineering brain-wide activity patterns for therapeutics'. The seminar will be given by Prof. Mehmet Fatih Yanik, Institute for Neuroinformatics, ETH Zurich.

Biography:
Prof. Yanik received his BS and MS in Engineering and Physics at MIT in 2000, and PhD in Applied Physics at Stanford in 2006. He completed postdoctoral work in Stanford Bioengineering and Neurosurgery. He subsequently served as Assistant and later as Associate Professor till he received tenure at MIT. He is currently full professor at ETH Zurich. His studies are recognized by NIH Director's Pioneer Award (youngest recipient), NIH Director's New Innovator Award, NIH Transformative Research Award, Packard Award in Engineering and Science, Alfred Sloan Award in Neuroscience, NIH Eureka Award, NSF Career Award, Silicon Valley's Innovator's Challenge Award, Technology Review Magazine's "World's top 35 innovators under age 35", Junior Chamber International's "Outstanding Young Person", and others.

Abstract: 
Brain networks are disrupted in numerous disorders. Existing treatment options often cannot address such complex dysfunctions. We first show how the aberrant brain-wide activity patterns can be completely corrected by targeting distinct network motifs with multiple neuromodulators using a zebrafish model of human epilepsy and autism. This systematic approach rescues behaviour unlike any other treatment. With methods promising future therapeutic use, we next show how specific molecular targets in different brain circuits can be non-invasively and spatially targeted in mammals and potentially in primates, and discuss how cortex-wide activity patterns can be captured chronically at single-neuron resolution with minimal invasiveness.