Current and future applications of non-invasive and invasive BCIs.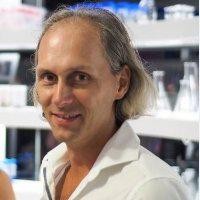 Event details
Date and time

13.02.2018

–

14:00

›

15:00

Place and room
Speaker

Dr. Christoph Guger, CEO g.tec, Austria.

Category
Conferences - Seminars
Brain-computer interface technology is used for high impact medical applications: stroke rehabilitation, assessment and communication with patients with disorders of consciousness and locked-in patients, functional mapping of the eloquent cortex for neurosurgery and for neuroscience. The talk will highlight recent developments and future applications like avatar control with invasive and non-invasive BCIs.

Short Bio
Christoph Guger studies biomedical engineering at the University of Technology Graz and Johns Hopkins University in the US. He is designing real-time brain-computer interfaces for rehabilitation, assessment, communication and functional mapping. He founded g.tec medical engineering GmbH in order to develop BCI neurotechnology for research and medical applications.
 
Organizer
CNBI, Prof José del R. Millán
Export Event
Event broadcasted in