DLN: Brain Repair After Stroke, Prof. Steven C. Cramer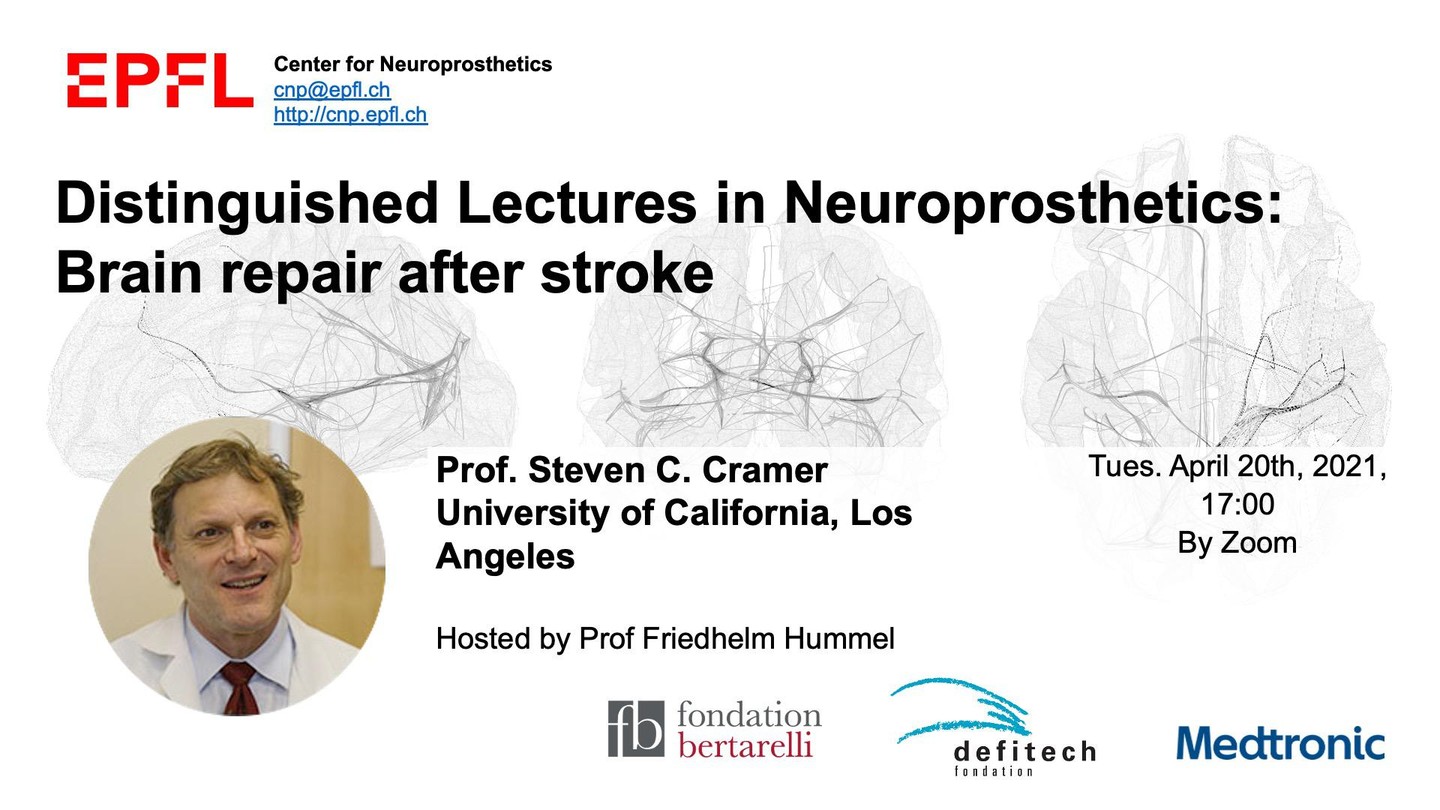 After a stroke occurs and injury is fixed, a number of restorative biological pathways are activated in the CNS, contributing to spontaneous behavioral recovery. Many therapeutic strategies are under study that target these restorative pathways and aim to improve patient outcomes. During this talk, a number of such brain repair therapies will be discussed, including drugs, biological therapies, and a telehealth to intense task practice. Improving brain structure and function after stroke is not well suited to using a "one size fits all" approach, as there is substantial inter-subject heterogeneity, e.g., due to differences in infarct location. Instead, restorative therapies benefit from patient selection according to specific measures such as degree of injury or extent of functional derangement within affected neural systems. Studies evaluating such measures will be reviewed, as will data examining how well genetic variation can predict training-related gains. Such studies have direct implications for clinical trial design for post-stroke restorative therapies, and ultimately might inform clinical decision-making.


Prof. Cramer's Bio:
Dr. Steven C. Cramer is a Professor of Neurology at the University of California, Los Angeles.  He is also the Director of Research at California Rehabilitation Institute, co-PI of the NIH StrokeNet clinical trials network, and a Section Editor at the journal Stroke.  Dr. Cramer graduated with Highest Honors from University of California, Berkeley; received his medical degree from University of Southern California; did a residency in internal medicine at UCLA; and did a residency in neurology plus a fellowship in cerebrovascular disease at Massachusetts General Hospital.  He also earned a Masters Degree in Clinical Investigation from Harvard Medical School.

His research focuses on neural repair after central nervous system injury in humans, with an emphasis on stroke and on recovery of movement.  Treatments examined include robotics, cellular therapies, a monoclonal antibody, brain stimulation, drugs, and telehealth methods.  A major emphasis is on translating new drugs and devices to reduce disability after stroke, and on developing biomarkers to individualize therapy for each person's needs.  Dr. Cramer has been awarded the Stroke Rehabilitation Award from the American Heart Association, the Barbro B. Johansson Award in Stroke Recovery from the World Stroke Organization, the Award for Excellence in Post-Acute Stroke Rehabilitation from the American Congress of Rehabilitation Medicine, and he is the Susan and David Wilstein Endowed Chair in Rehabilitation Medicine. He also co-edited the book "Brain Repair after Stroke", and is the author of over 300 manuscripts.