DLN-CIBM joint seminar: From network psychology to network physiology: new advances in fMRI in rodents, Valerio Zerbi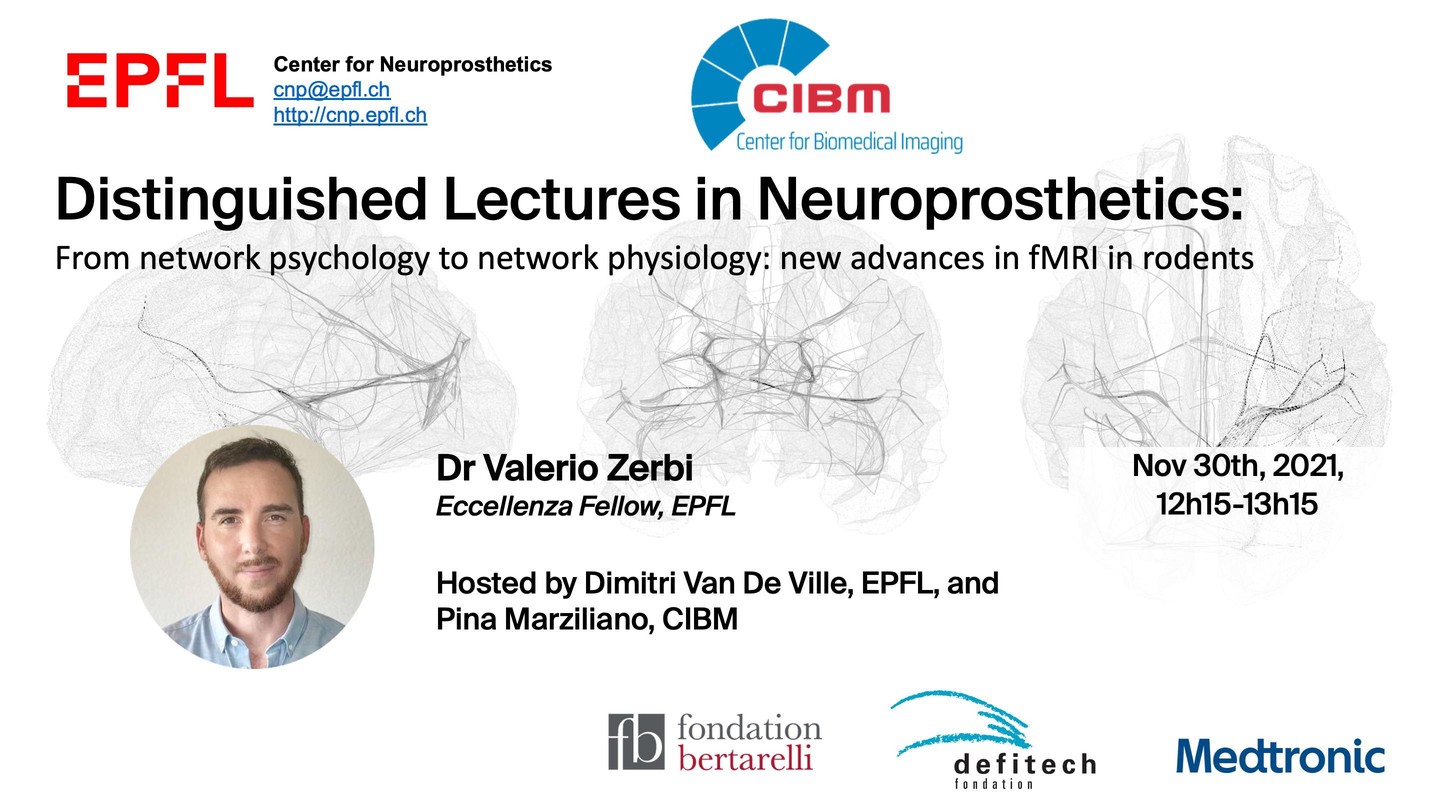 Event details
Date

30.11.2021

–

12:15

›

13:15

Speaker

Valerio Zerbi

Location
Online
Category
Conferences - Seminars
Abstract

The mission of my lab is to understand the biological underpinning of functional neuroimaging data. One of ourcore competencies is that we are able to back-translate functional imaging methods used in the clinic (e.g. functional MRI) in rodent models, and use them in combination with viral (chemo and optogenetic) and electrical (temporal interference) neurostimulation approaches, electrophysiology and computational models. With these tools, we tackle research questions that span from the basic physiology of cells-to-network interactions, to the study of brain signatures underpinning different neurological and psychiatric conditions.
In this talk, I will show how we used these methods (1) to describe common signatures underpinning the pathophysiology of Autism, and (2) to study how the Locus Coeruleous / Norepineprhine systems influence neural computations at the network level. 



Bio:

Valerio Zerbi got his master degree in Biomedical Engineering (2008) at the Politecnico of Milano, Italy. Thereafter he moved to the Netherlands, where he successfully obtained a PhD in Medical Sciences (2013) at the Radboud University Nijmegen Medical Centre, Nijmegen, as well as the diploma at the Donders Graduate School for Cognitive Neuroscience. In these years he became responsible for the small-​animal MRI work in his research group, which led him on several international collaborations in the field of neuroscience. In 2014 he moved to Zurich, where he won the prestigious ETH Postdoctoral Fellowship award, to work in the Neural Control of Movement lab in collaboration with Prof. Wenderoth. Since 2017 Valerio is a Swiss National Science Foundation (SNSF) Ambizione fellow. He is currently leading an independent research team of 3 PhD Students, has published 34 peer-​reviewed manuscripts of which 13 as (co)first author, been cited ~1000 times and has received ~1.4M EUR in research (public) funding.