DLN: Prof Andrea Serino. Peripersonal space (PPS) as a primary interface for self-environment interactions.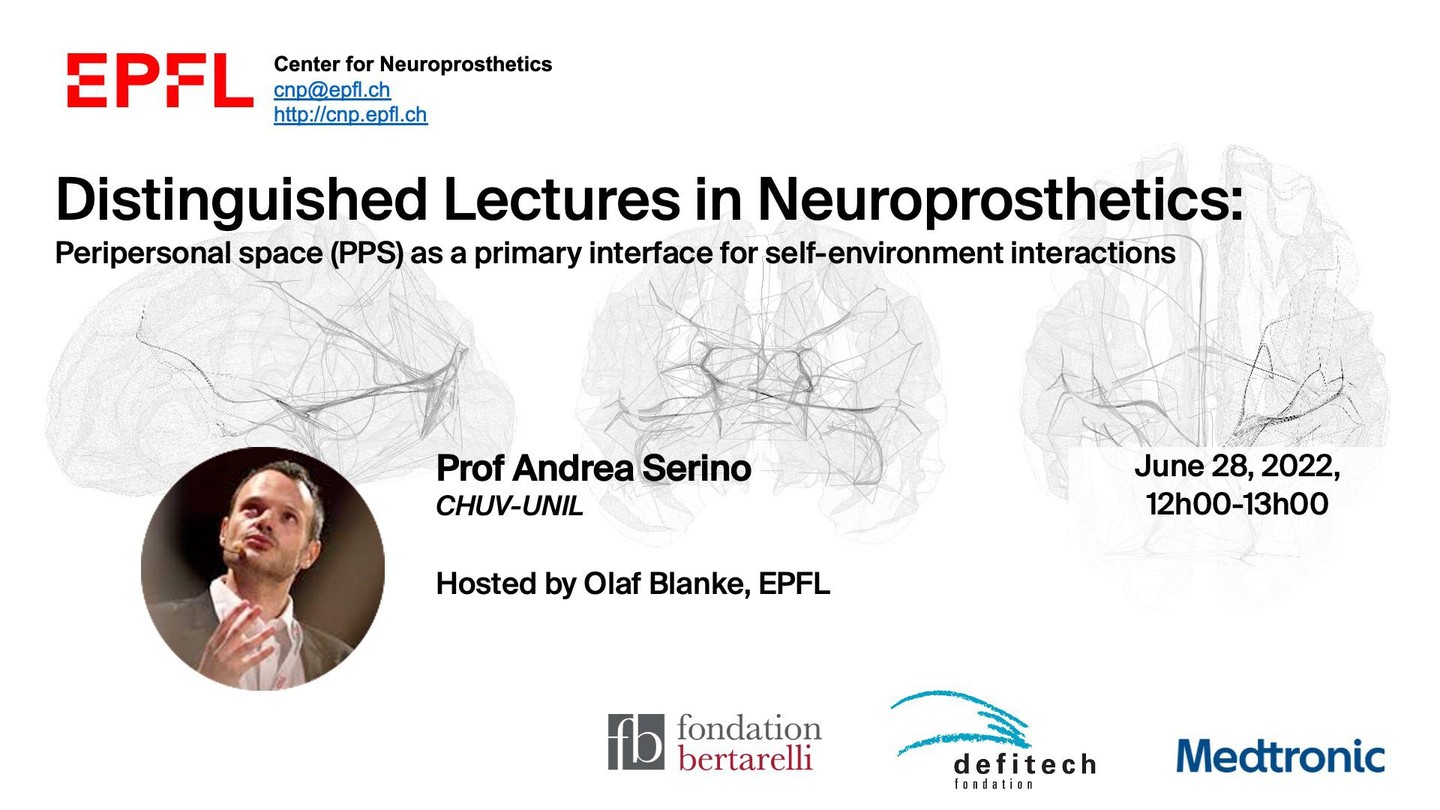 Event details
Date

28.06.2022

–

12:00

›

13:00

Speaker
Andrea Serino
Location
Online
Category
Conferences - Seminars
Event Language
English
Peripersonal space (PPS) defines the portion of space where interactions between our body and the external environment more likely occur. There is no physical boundary defining the PPS with respect to the extrapersonal space, but PPS is continuously constructed by a dedicated neural system integrating external stimuli and tactile stimuli on the body, as a function of their potential interaction. This mechanism represents a primary interface between the individual and the environment.
In this talk, I will present most recent evidence and highlight the current debate about the neural and computational mechanisms of PPS, its main functions and properties. I will discuss novel data showing how PPS dynamically shapes to optimize body-environment interactions. I will describe a novel electrophysiological paradigm to study and measure PPS, and show how this has been used to search for a basic marker of potentials of self-environment interaction in newborns and patients with disorders of consciousness. Finally, I will discuss how PPS is also involved in, and in turn shaped by, social interactions.
Under these acceptances, I will discuss how PPS plays a key role in self-consciousness.  
 

Suggested papers:
Serino A. Peripersonal space (PPS) as a multisensory interface between the individual and the environment, defining the space of the self. Neurosci Biobehav Rev. 2019 Apr;99:138-159. doi: 10.1016/j.neubiorev.2019.01.016.

Serino S, Trabanelli S, Jandus C, Fellrath J, Grivaz P, Paladino MP, Serino A. Sharpening of peripersonal space during the COVID-19 pandemic. Curr Biol.2021 Jul 26;31(14):R889-R890. doi: 10.1016/j.cub.2021.06.001.

Noel JP, Bertoni T, Terrebonne E, Pellencin E, Herbelin B, Cascio C, BlankeO, Magosso E, Wallace MT, Serino A. Rapid Recalibration of Peri-Personal Space: Psychophysical, Electrophysiological, and Neural Network Modeling Evidence. Cereb Cortex. 2020 Jul 30;30(9):5088-5106. doi: 10.1093/cercor/bhaa103.

Noel JP, Chatelle C, Perdikis S, Jöhr J, Lopes Da Silva M, Ryvlin P, De Lucia M, Millán JDR, Diserens K, Serino A. Peri-personal space encoding in patients with disorders of consciousness and cognitive-motor dissociation. Neuroimage Clin. 2019;24:101940. doi: 10.1016/j.nicl.2019.101940.

Ronga I, Galigani M, Bruno V, Noel JP, Gazzin A, Perathoner C, Serino A, Garbarini F. Spatial tuning of electrophysiological responses to multisensory stimuli reveals a primitive coding of the body boundaries in newborns. Proc Natl Acad Sci U S A. 2021 Mar 23;118(12):e2024548118. doi: 10.1073/pnas.2024548118.