EPFL BioE Talks SERIES "Mitotic Bookmarking by Transcription Factors"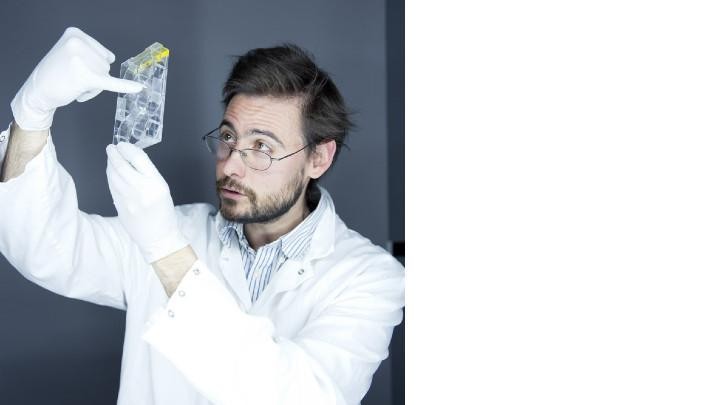 Event details
Date

16.05.2022

Hour

16:00

›

17:00

Speaker
Pablo Navarro Gil, Ph.D., Department of Developmental and Stem Cell Biology, Institut Pasteur, Paris (F)
Location
Online
Category
Conferences - Seminars
Event Language
English
WEEKLY EPFL BIOE TALKS SERIES

Abstract:
The changes that occur during mitosis often have dramatic effects on gene regulatory processes, which need to be accurately reinstated in the daughter cells. Whether sequence-specific transcription factors (TFs) contribute to gene reactivation after mitosis, particularly in the context of an intense and global burst of transcription occurring shortly after division, is not fully understood. While some TFs have been proposed to act as mitotic bookmarking factors driving gene reactivation after mitosis, whether this function is really executed by any TF is still today debatable. These questions will be discussed using pluripotent cells and the TFs CTCF, Esrrb, Nr5a2 and cMyc as illustrative examples.

Bio:
Education/Degree:
2018             HDR; UVSQ University
2002-2006    PhD; Paris VI University - «Logique du Vivant»
2001-2002    DEA (Cancerology); Institut Gustave Roussy / Paris XI
1999-2001    Master; École Normale Supérieure Ulm / Paris VII
1999-2003    École Normale Supérieure de Cachan
 
Positions:
2019-present    Head of the EPIC Unit, Institut Pasteur
2016-present    Coordinator of the Revive bioinformatics team, Institut Pasteur
2013-2018        Junior Group Leader (ECS G5), Institut Pasteur
2009-2013        Research associate with Pr.I. Chambers, University of Edinburgh
2006-2009        Research associate with Pr. P. Avner, Institut Pasteur
2002-2006        PhD studies with Dr. C. Rougeulle, Institut Pasteur
.


Zoom link (with one-time registration for the whole series) for attending remotely: https://go.epfl.ch/EPFLBioETalks


Instructions for 1st-year Ph.D. students who are under EDBB's mandatory seminar attendance rule:
IF you are not attending in-person in the room, please make sure to
send D. Reinhard a note before noon on seminar day, informing that you plan to attend the talk online, and
be signed in on Zoom with a recognizable user name (not a pseudonym making it difficult or impossible to be identified).
Students attending the seminar in-person should collect a confirmation signature after the talk - please print your own signature sheet beforehand (71 kB pdf available for download here).