EPFL BioE Talks SERIES "Targeting Vasoactive Intestinal Peptide-Mediated Signaling Enhances T Cell Responses to Cancer and Creates Protective Anti-cancer Immunological Memory"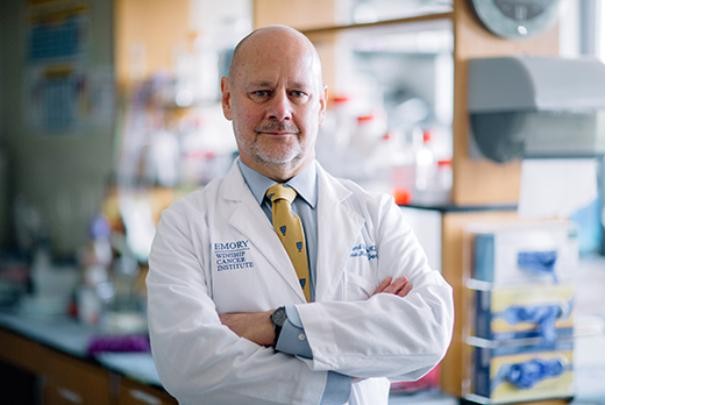 Event details
Date

03.10.2022

Hour

16:00

›

17:00

Speaker
Prof. Edmund K. Waller, Emory University, Atlanta, GA (USA)
Location
Online
Category
Conferences - Seminars
Event Language
English
WEEKLY EPFL BIOE TALKS SERIES

Abstract:
Immune checkpoint molecules are critical targets of cancer therapies due to their ability to modulate immune responses to cancer. Vasoactive intestinal peptide (VIP) has been proposed as an immune checkpoint molecule, but its predictive and prognostic values have not been established. We evaluated expression levels of VIP and programmed death-ligand 1 (PD-L1) across different cancer types and identified specific cancer histologies in which the expression of these markers is elevated, including acute myeloid leukemia (AML), pancreatic ductal adenocarcinoma (PDAC), and glioblastoma multiforme (GBM). We observed a negative correlation between PD-L1 and VIP expression across cancer types, suggesting the functional redundancy of VIP and PD-L1 immunosuppressive pathways as mechanisms of immune escape. We propose that cancer cell expression of VIP limits the effectiveness of cellular immunotherapy, leading to a paucity of effector T cells within the cancer microenvironment, rendering cancers resistant to immune checkpoint therapies. While several under-development approaches target immune-suppressive cells in the tumor microenvironment, there is less focus on improving T cell function.

We show that inhibiting vasoactive intestinal peptide receptor (VIP-R) signaling could enhance T cell-dependent anti-tumor immunity in murine models of AML, PDAC, and GBM. In silico data mining and immunohistochemistry analysis of primary tumors indicate over-expression of the neuropeptide vasoactive intestinal peptide (VIP) in corresponding human tumor samples. In particular, elevated VIP levels are present in PDAC patient plasma and supernatants of cultured PDAC cells. Furthermore, T cells up-regulate VIP receptors after activation, identifying the VIP signaling pathway as a potential target to enhance T cell function. In mouse PDAC and GBM models, VIP-R antagonist peptides synergize with anti-PD-1 antibody treatment in improving T cell recruitment into the tumors, activating tumor-antigen-specific T cells, and inhibiting T cell exhaustion. In contrast to the limited single-agent activity of anti-PD1 antibodies or VIP-R antagonist peptides, combining both therapies eliminate tumors in up to 40% of animals. Furthermore, tumor-free mice resist tumor rechallenge, indicating anti-cancer immunological memory generation. In AML models, single agent VIP-R antagonists induce complete regression of established C1498 and P815 leukemia in more than 50% of animals, with cancer-free mice rendered resistant to subsequent rechallenge with leukemia cells. VIP-R signaling thus represents a tumor-protective immune-modulatory pathway that is targetable in multiple cancers.

Bio:
Edmund K. Waller, MD, PhD, FACP, is board certified in hematology, medical oncology and internal medicine. A practicing physician with Emory Healthcare since 1995, Dr. Waller specializes in bone marrow transplants for acute leukemia, myelodysplastic syndrome, myeloproliferative neoplasms, lymphoma, aplastic anemia, sickle cell disease and in the management of graft-versus-host disease (GVHD). He is also an expert in CAR T-cell therapy.
Dr. Waller holds memberships with American College of Physicians, American Society for Blood and Marrow Transplantation, American Society of Clinical Oncology, American Society of Hematology and International Society for Experimental Hematology.
 

Dr. Waller earned his undergraduate degree from Harvard University, his medical degree from Cornell University Medical College, and his PhD in chemical biology from Rockefeller University in New York, New York. Dr. Waller completed a residency in the Department of Medicine at Stanford University in Stanford, California. He then went on to complete a clinical fellowship in oncology, as well as a research fellowship in pathology at Stanford University.

 

Dr. Waller's research focus is in enhancing immune reconstitution after stem cell transplant and anti-tumor immunology. He has research support from the National Institutes of Health, The Leukemia & Lymphoma Society and National Marrow Donor Program.





Zoom link (with one-time registration for the whole series) for attending remotely: https://go.epfl.ch/EPFLBioETalks


Instructions for 1st-year Ph.D. students who are under EDBB's mandatory seminar attendance rule:
IF you are not attending in-person in the room, please make sure to
send D. Reinhard a note before noon on seminar day, informing that you plan to attend the talk online, and
be signed in on Zoom with a recognizable user name (not a pseudonym making it difficult or impossible to be identified).
Students attending the seminar in-person should collect a confirmation signature after the talk - please print your own signature sheet beforehand (71 kB pdf available for download here).