Launch your career, broaden your horizons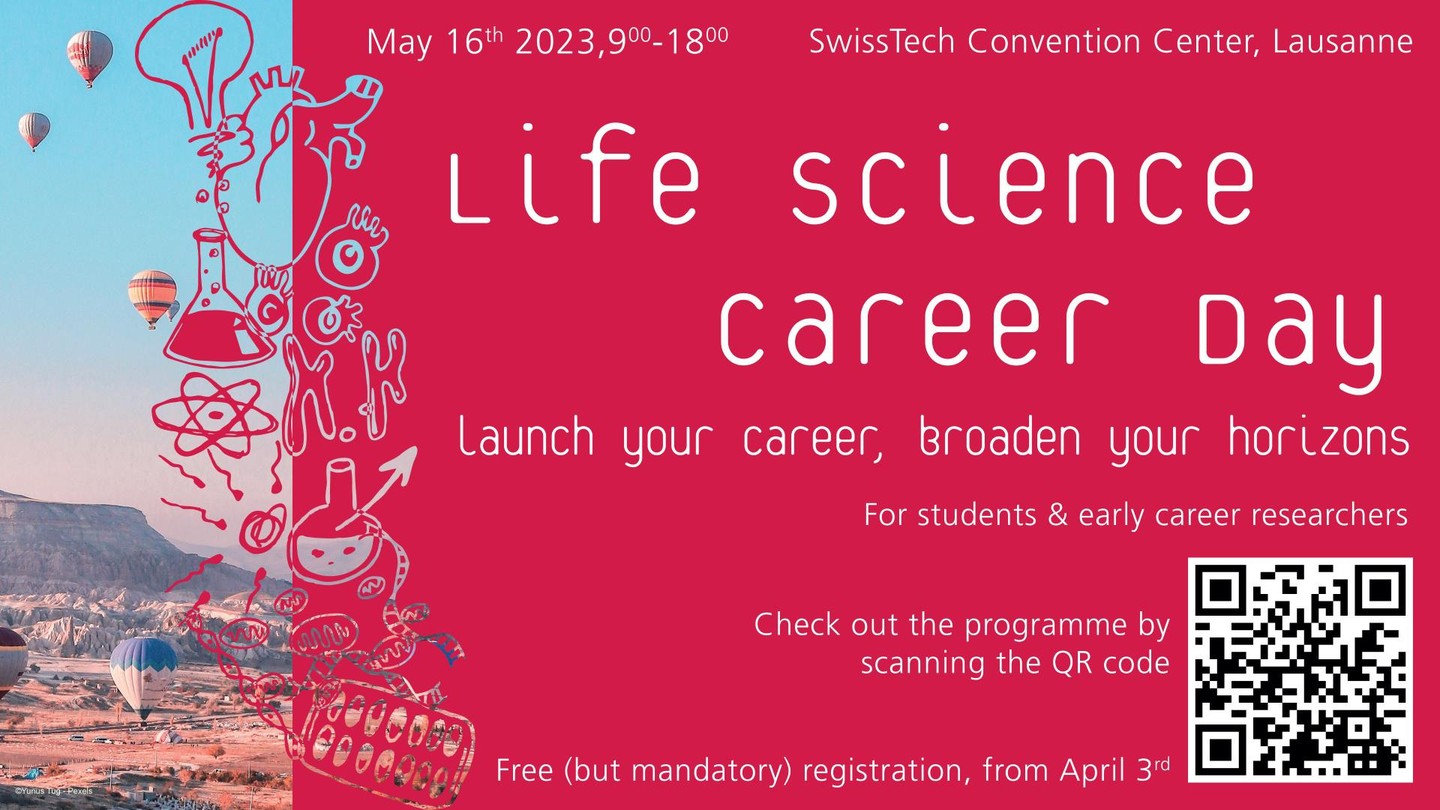 Event details
Date

16.05.2023

Hour

09:00

›

18:00

Location
Category
Convention
Event Language
French, English
Launch your career, broaden your horizons
The Life Science Career Day is a large-scale networking and career guidance event for students and young researchers in the field of life sciences at Swiss universities to facilitate their access to their first job outside the university.

Date & Venue: May 16th 2023, SwissTech Convention Center, Lausanne.

Target audience: students and early career researchers from Swiss Universities wishing to prepare for a career in the corporate world/industry or in various organizations (governmental and non-governmental).

Theme 2023: Career options within life sciences… How diverse!

Book this day and follow us from A to Z! Renowned companies and speakers are looking forward to meeting you in person during the networking sessions! The program is published here.

Registration: from April 3 / free of charge but mandatory
Organisers: UNIL (Faculty of Biology and Medicine) and the Bioscience Network Lausanne UNIL-EPFL.
Academic partners: EPFL (School of Life Sciences) & UNIGE (Faculty of Medicine and Faculty of Science).
Associative partners: Le LAB and SV Industry.
Links
Practical information
General public
Registration required
Organizer
Organisateurs·trices: l'UNIL (Faculté de biologie et de médecine) et le Bioscience Network Lausanne UNIL-EPFL. Partenaires académiques: l'EPFL (Faculté des sciences de la vie) & l'UNIGE (Faculté de médecine et Faculté des sciences). Partenaires associatifs:  Le LAB et SV Industry.
Contact
Export Event
Tags
Life Sciences
Carreer