NeuroTech Talks: implantable peripheral interfaces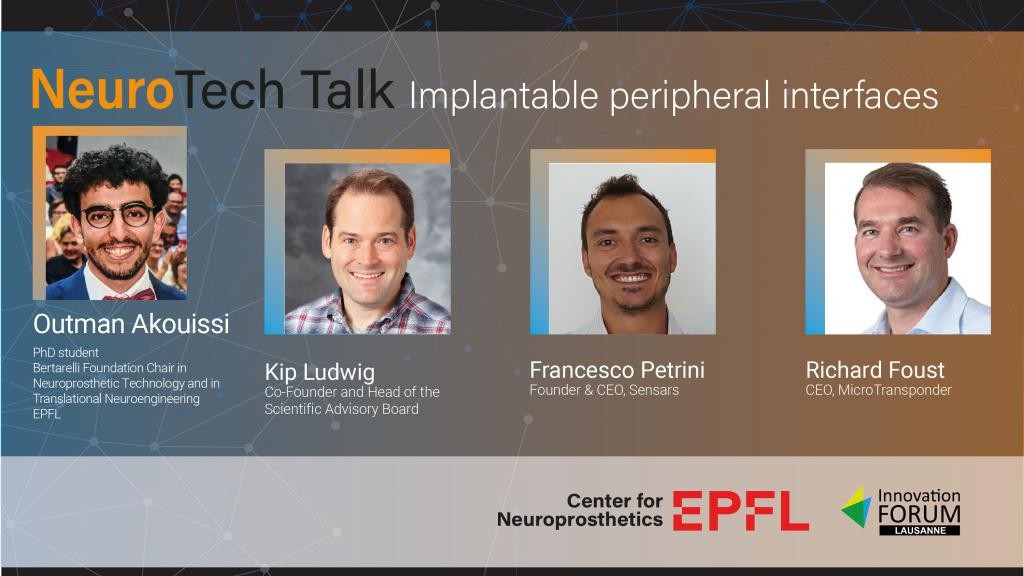 Innovation Forum Lausanne, together with the Center for Neuroprosthetics is thrilled to welcome you to the next session of the NeuroTech Talk Series, on Thursday 2nd of June at 18h00 CET, about implantable peripheral nerves interfaces. Outman Akouissi from the Bertarelli Foundation Chair in Neuroprosthetic Technology and the Bertarelli Foundation Chair in Translational Neuroengineering of EPFL and working on implantable peripheral nerve interfaces, will be moderating the seminar and introducing the speakers:
Kip Ludwig, Co-Founder and Head of the Scientific Advisory Board of Neuronoff, a startup that aims at transforming complex neuromodulation surgeries into a simple outpatient procedure.
Francesco Petrini, founder and CEO at SensArs, which treats chronic neuropathic pain and reduces movement disability due to sensory loss by highly selective peripheral nerve stimulation.
Richard Foust, CEO and co-Founder of MicroTransponder, a neurotechnology company that combines Vagus Nerve Stimulation (VNS) and therapy with the goal of improving quality of life for patients with chronic neurological conditions.
The event will be fully online. Register now and you will receive the Zoom link the day before the event. The event will not be recorded.
Links
Practical information
Informed public
Registration required
Contact
Export Event
Event broadcasted in