Retreat: Creating a Network for Early-Career Scholars Affected by Racism and Classism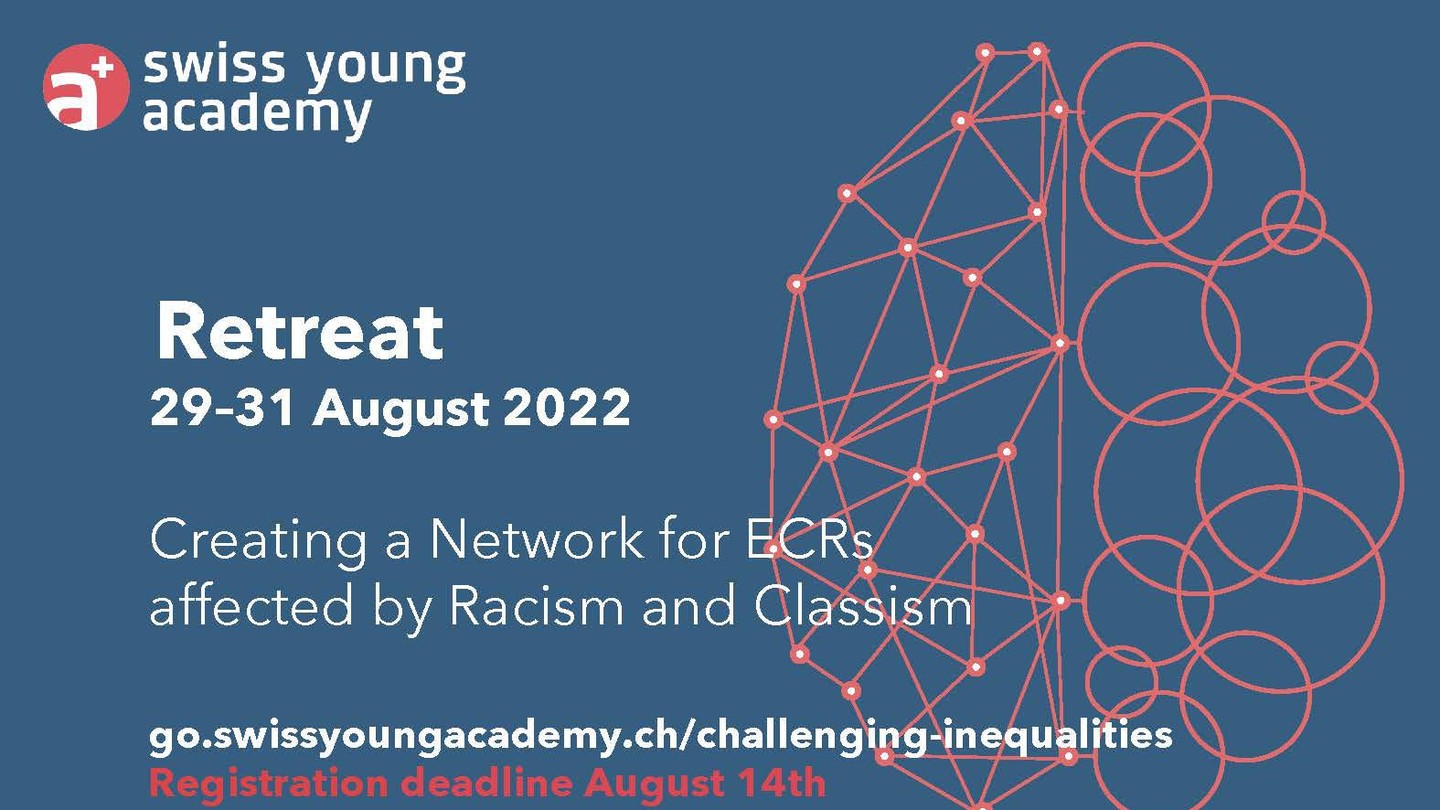 Event details
Date

11.08.2022

›

14.08.2022

Category
Call for proposal
Event Language
English
In Brief
Time:               Monday, 29th August 2022 - Wednesday, 31st August 2022
Place:              Bern
Participants:  up to 20 early career researchers
Language:      English

Aim
In 2021, the Swiss Young Academy organized a retreat to address issues around racism and classism in Swiss Higher Education. Early-Career Researchers (ECRs) identifying as first-generation academics and/or Black/Indigenous/People of Colour/Jewish/Migrants were invited to create a space where issues could be openly addressed to identify systemic obstacles and possible ways forward.
 
Participants diagnosed a silence around race and class within equality and diversity discourses at Swiss universities. In view of the emerging debate about academic precarity in Switzerland, this year will focus on building a self-sustaining support network for ECRs affected by classism and/or racism to envision ways forward and provide the informal mutual support and mentoring participants identified as crucial.
 
Outcome
Creation of a self-sustaining network that will be open to scholars affected by racism and/or classism in Switzerland. The concrete goals of the network will be developed together with the participants of the retreat.
 
Participants
Early career researchers affiliated with Swiss academic institutions, who are subjected to racism (including but not limited to antisemitism, anti-Muslim racism, migrantism) and/or classism can apply to participate in the retreat. The participation will be free of charge. Accommodation will be provided.
 
Workshops
At the retreat, we will run different workshops that facilitate the creation of a network and create links to last year's participants
 
Application
Deadline: August 14th 2022
Online form: https://forms.gle/3vWtoioDYHPrRKCw7 
The participation is free of charge and accommodation is provided.
Practical information
Informed public
Registration required
Organizer
SYA Organizers Stefanie Boulila (Lecturer and project manager at Lucerne University of Applied Sciences and Arts), Alexandre Bovet (Assistant Professor at the University of Zurich), Lerato Posholi (Postdoctoral Fellow at Europainstitut, University of Basel), Gustavo Ruiz Buendía (Bioinformatician at the Swiss Institute of Bioinformatics)
Contact
Export Event
Event broadcasted in