'Design Words' Roundtable Series (from the University of Hong Kong)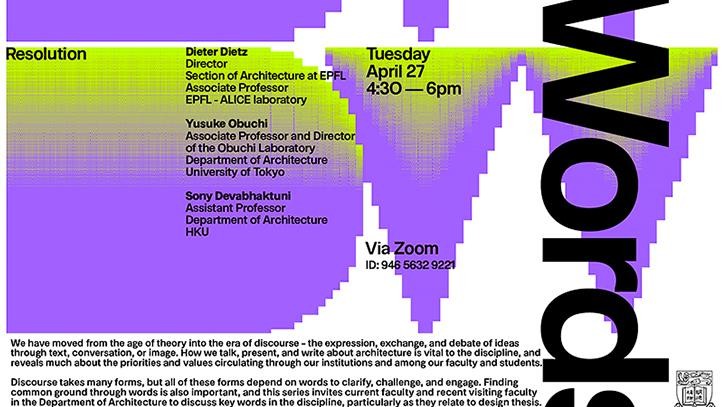 Event details
Date and time

27.04.2021

–

09:30

›

11:00

Online
https://hku.zoom.us/j/94656329221
Speaker

Dieter Dietz, Yusuke Obuchi, Sony Devabhaktuni

Category
Conferences - Seminars
HKU Department of Architecture
'Design Words' Roundtable Series, Spring 2021
We have moved from the age of theory into the era of discourse – the expression, exchange, and debate of ideas through text, conversation, or image. How we talk, present, and write about architecture is vital to the discipline, and reveals much about the priorities and values circulating through our institutions and among our faculty and students.
Discourse takes many forms, but all of these forms depend on words to clarify, challenge, and engage. Finding common ground through words is also important, and this series invites current faculty and recent visiting faculty in the Department of Architecture to discuss key words in the discipline, particularly as they relate to design thesis.
This semester's terms – speculation, iteration, and resolution – relate to architectural education and practice more generally, but they take on a specificity and urgency in connection to design thesis, which occupies significant if somewhat uncertain terrain in a student's architectural education. To that end, this series aims to spark discussion among faculty and students regarding not simply what particular words might mean, but what thesis means in architectural education today, and the ways we define, interpret, and communicate that meaning.
Event Details
Venue:
To be held virtually via Zoom
Zoom Link*:
Meeting ID:
946 5632 9221

*The total number of attendance is limited to 300. First come, First served. This event series is open to the general public.
Resolution
Tuesday, 27 April, 4:30-6pm (at HK)
Dieter Dietz, Director, Section of Architecture at EPFL / Associate Professor, EPFL – ALICE Laboratory
Yusuke Obuchi, Associate Professor and Director of the Obuchi Laboratory, Department of Architecture, University of Tokyo
Sony Devabhaktuni, Assistant Professor, Department of Architecture, HKU