Exhibitions

11:00-18:00
ArtLab B
The outstanding Catalan philosopher and theologian Ramon Llull (c.1232–1316) encourages us to reread the late Middle Ages. Llull, not only theoretically and linguistically invented a new method of knowledge acquisition, like an engineer, he also mechanized it, and translated it into a machine. The EPFL instance is curated by: Prof. Dr. Amador Vega, (Universitat Pompeu ...
Read more about "Thinking Machines. Ramon Llull and the ars combinatoria"
By
Prof. Dr. Amador Vega, Prof. Dr., CEO and Director Peter ...

Archizoom
CO-OPERATE En réunissant des constructeurs, architectes, agriculteurs, artistes, artisans et ingénieurs convaincus que l'empathie et la collaboration sont la base de tout travail de qualité, le bureau d'architecture Case Design de Mumbai créée les conditions qui permettent d'édifier des lieux dédiés à l'hospitalité, l'interaction sociale, la réflexion, le jeu, les rituels, l'isolement, l'efficience et le ...
Read more about "Case Design - A School in the Making"
Call for proposal
Rare Disease Models and Mechanisms-Europe registry open for registration "Solve-RD – Solving the unsolved Rare Diseases" is a large European research project funded by the EU for five years (2018-2022) under Horizon 2020. The consortium is collaborating with European reference networks (ERNs) to improve the diagnosis of rare diseases. Solve-RD is about to establish a ...
Read more about "Rare Disease Models and Mechanisms-Europe registry open for registration"
Cultural events

By
Orchestre de la Suisse Romande (OSR)
Internal trainings

08:30-17:00
MA B0 424
Cette formation permet d'acquérir les savoir-faire et réflexes de base de l'écriture informative/journalistique (comment formuler une information simple, une synthèse ou résumé d'article en 2/3 phrases, comment titrer, comment éditer ou présenter un texte…) et leur application pour le web.
Read more about "Ecriture Web - Savoir-faire de base"
Sporting events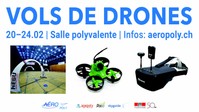 11:00-19:00
CE 1 515
Venez découvrir le vol en FPV à l'occasion de notre séance de vols découverte en salle polyvalente du 20 au 24 février. Au programme : courses, initiations, démonstrations et vols de nuit ! Membre ou non de l'association, vient voler avec nous : des drones sont à disposition (pour tous) mais n'hésite pas à ramener ...
Read more about "Aéropoly - Vol drones | salle polyvalente"
Miscellaneous