Exhibitions

11:00-18:00
ArtLab B
The outstanding Catalan philosopher and theologian Ramon Llull (c.1232–1316) encourages us to reread the late Middle Ages. Llull, not only theoretically and linguistically invented a new method of knowledge acquisition, like an engineer, he also mechanized it, and translated it into a machine. The EPFL instance is curated by: Prof. Dr. Amador Vega, (Universitat Pompeu ...
Read more about "Thinking Machines. Ramon Llull and the ars combinatoria"
By
Prof. Dr. Amador Vega, Prof. Dr., CEO and Director Peter ...
Internal trainings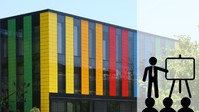 08:30-17:00
BI A0 398
WordPress est une application de gestion de contenus web qui permet aux collaborateurs de l'EPFL, sans connaissances techniques particulières, de concevoir, structurer, animer et éditer leur site web avec la Charte graphique EPFL. WordPress est appelé à remplacer Jahia utilisé actuellement et devenir le principal outil utilisé sur le campus pour les sites de facultés, ...
Read more about "Wordpress - Base"