IEM Distinguished Lecturers Seminar: Embracing Complexity for Enduring and Adaptive Robots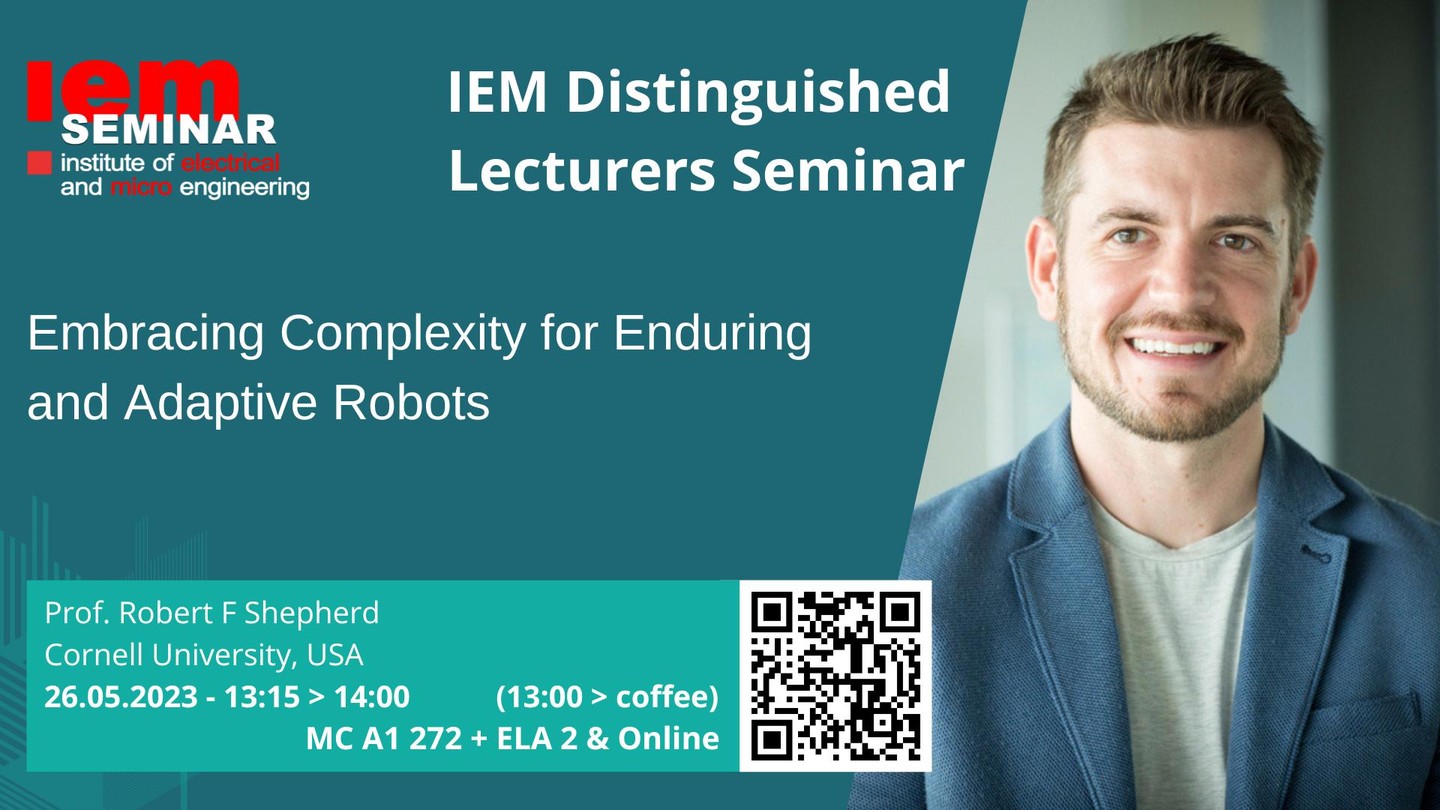 Event details
Date

26.05.2023

Hour

13:15

›

14:00

Speaker
Prof. Robert F Shepherd
Sibley School of Mechanical & Aerospace Engineering, Cornell University, USA
Location
Online
Category
Conferences - Seminars
Event Language
English
The seminar will take place in the main auditorium in Neuchâtel Campus (MC A1 272) and will be simultaneously broadcasted in ELA 2.

Coffee and cookies will be served at 13:00 before the seminar, in front of the two auditoriums. 

Abstract
General purpose robots are an important and far reaching technical challenge that would be enabling for agriculture, space missions, disaster recovery, personal medical care, and many other uses. The proliferation of quadrotor and, now, quadrupedal robots are beginning to show the value of general utility, but still fail to achieve the mobility and manipulation dexterity, as well as efficiency and operational lifetime of animals. Animals, on the other hand, are presently far too complicated to build. They are semi-discretized systems of organs that perform multiple functions and are spatially discrete from each other, yet interconnected mechanically, chemically, and electrically. To improve the abilities of our general purpose robots, we believe that a similar model of complex, multifunctional, and interconnected organ systems is needed. Of course, it is not yet that simple to be complex; however, much of this complexity lies in structural hierarchy and interconnectivity. We will present synthetic approaches towards this hierarchy and interconnectivity, that results in distribute sensing, actuation, energy, and communication in robots. Our approach favors the use advanced materials and manufacturing over computational ones to achieve these goals. In this talk,  I will focus on advances in the use of aqueous redox flow batteries as hydraulic fluids for high energy density underwater robots, arrays of powerful microscale engines, and sensing techniques that can be used to control these systems. 

Bio
Rob Shepherd is an associate professor at Cornell University in the Sibley School of Mechanical & Aerospace Engineering. He received his B.S. (Material Science & Engineering), Ph.D. (Material Science & Engineering), and M.B.A. from the University of Illinois in Material Science & Engineering. At Cornell, he runs the Organic Robotics Lab (ORL: http://orl.mae.cornell.edu), which focuses on using methods of invention, including bioinspired design approaches, in combination with material science to improve machine function and autonomy. We rely on new and old synthetic approaches for soft material composites that create new design opportunities in the field of robotics. Our research spans three primary areas: bioinspired robotics, advanced manufacturing, and human-robot interactions. He is the recipient of an Air Force Office of Scientific Research Young Investigator Award, an Office of Naval Research Young Investigator Award, is a Senior Member of the National Academy of Inventors, and his lab's work has been featured in popular media outlets such as the BBC, Discovery Channel, and PBS's NOVA documentary series. He is an advisor to the American Bionics Project (americanbionics.org) which aims to make wheelchairs obsolete. He is also the co-founder of the Organic Robotics Corporation, which aims to digitally record the tactile interactions of humans and machines with their environment.