International PhD seminar Urban Regeneration & Industrial Heritage  / EDAR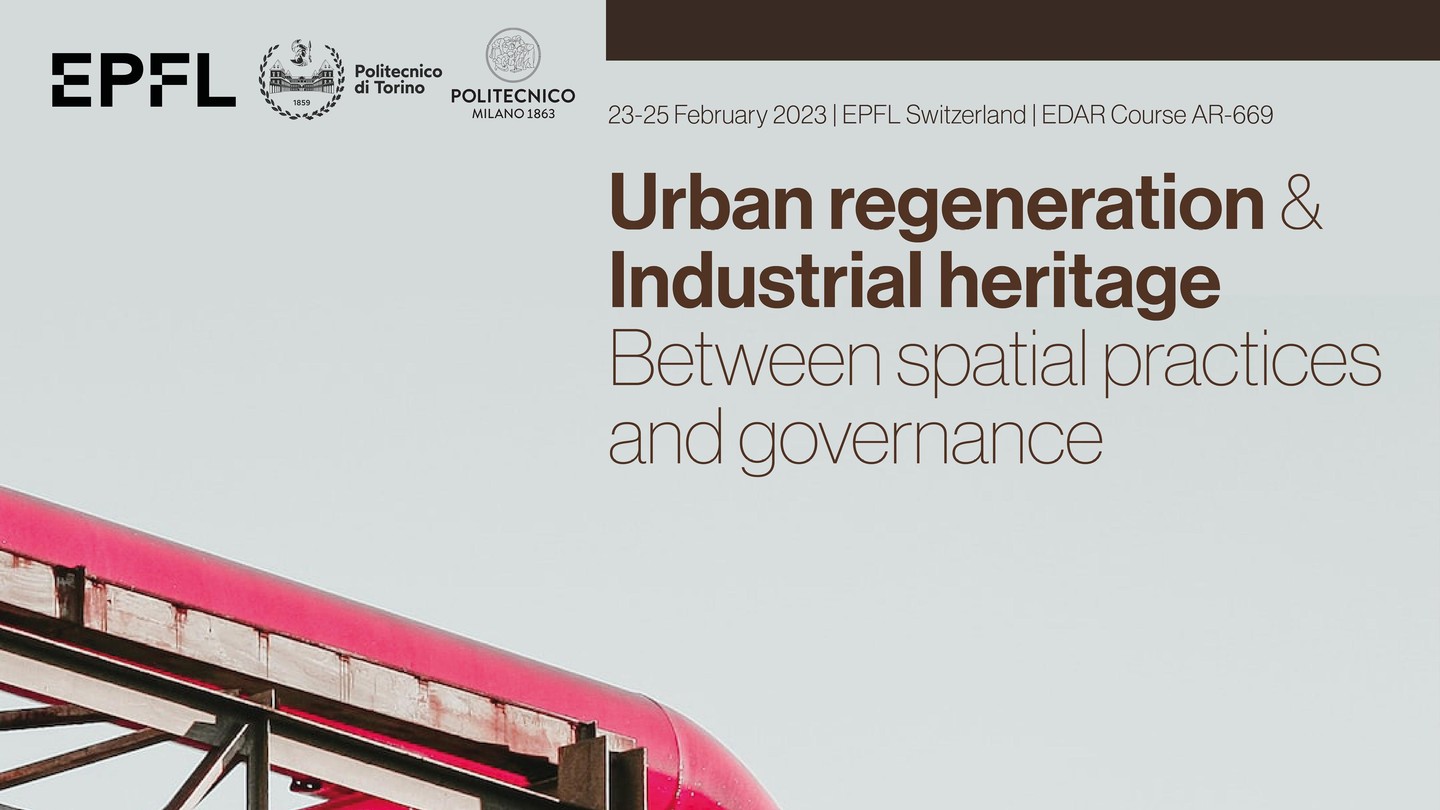 Event details
Date

23.02.2023

›

25.02.2023

Hour

09:00

›

18:30

Speaker
Alessandro Armando, Florence Graezer Bideau, Barbara Berger, Michele Bonino, Filippo De Pieri, Nina Rappaport, Giulia Setti,  Paul Smith, Vincent Veschambre 
Location
Category
Conferences - Seminars
Event Language
French, English
International PhD seminar Urban Regeneration & Industrial Heritage 

23 -25 February 2023
Foyer SG, Campus EPFL 
Le Locle/ La Chaux-de-Fonds, Neuchâtel

The course Urban regeneration and Industrial Heritage seeks to tackle the challenges of industrial sites reuse, considering governance and heritage issues for territories. The aim is to combine current debates in the three polytechnics and different expertise to understand contemporary challenges and practices. It explores different approaches to industrial heritage, from governance strategies to design and reuse processes, as well as the social and political implications of the urban and architectural legacy. The course offers a cross-disciplinary debate on current issues and challenges in the frame of a dialogue between the three polytechnics: EPFL, PoliMI and PoliTO.

Four axes guide this interdisciplinary course:
The urban regeneration and reuse of industrial sites: including the legacy of worker's social housing and other infrastructures;
Governance related to tangible and intangible industrial heritage policies at various scales: from grassroots to international regulations, and the discourses around its recognition;
The circulation of production models and transmission of technical knowledge to deconstruct dominant narratives;
Rethinking environmental and social sustainability:the impacts of industrialization and the new tools addressing the socio-ecological transition.
Practical information
General public
Registration required
Organizer

Scientific Committee: Florence Graezer Bideau (Heritage, Culture and City Research group, CDH, EPFL) Fillippo De Pieri (DAD - Polytechnic of Torino) Giulia Setti (DAStU - Polytechnic of Milan)    Executive Committee Anna Karla De Almeida Santos (Lab-U EPFL) Helena Roux (Heritage, Culture and City Research group, CDH, EPFL)
Export Event
Tags
Architecture
Urbanism
industrial heritage
Collège des Humanités
Event broadcasted in