MAS ETH EPFL UTD - Urban & Environmental Theory Session #1 / HRC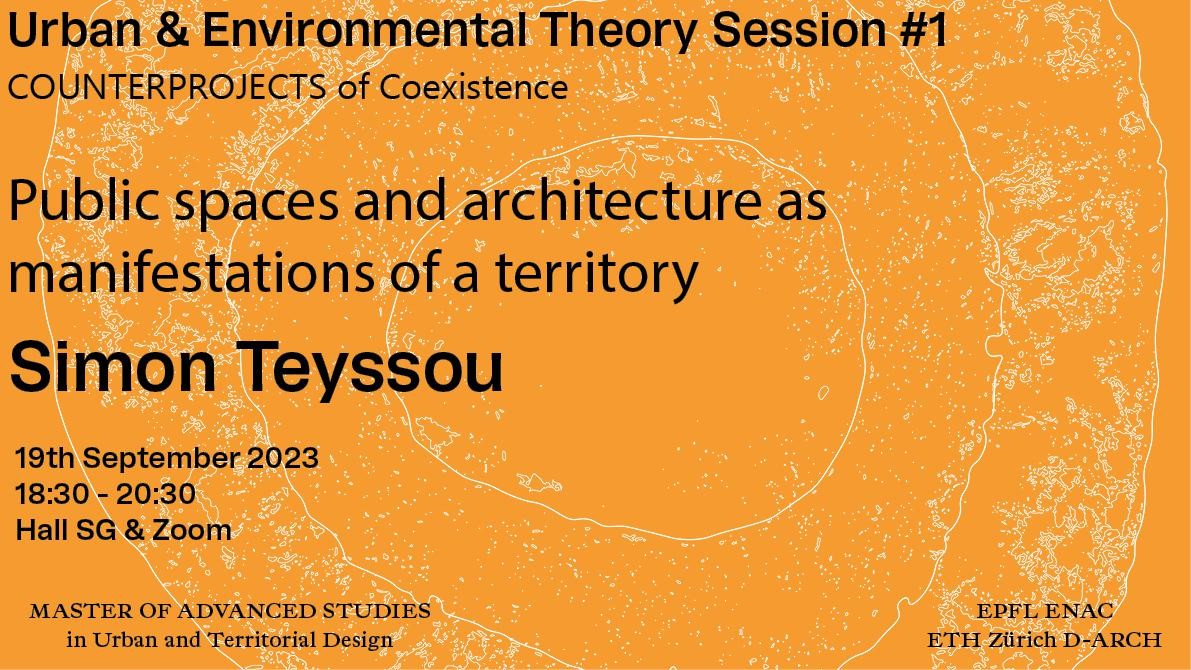 Event details
Date

19.09.2023

Hour

18:30

›

20:30

Speaker

Simon Teyssou

Location
Online
Category
Conferences - Seminars
Event Language
French, English
Public spaces and architecture as manifestations of a territory
Simon Teyssou
How are built forms a manifestation of the environment in which they are embedded? By their morphologies, the assembly of their materials, their degrees of openness, their relationship to the landscape and ground, buildings and public spaces have the power to reveal the specificities of a territory. Through the presentation of several build projects carried out in the bio-region of the Massif Central in France, the speak will deal with the local dimension of publics spaces and buildings and with their capacity to carry out more global themes which animate the reflection of the Rouget workshop.
About Urban & Environmental Theory Session
Organized in the framework of the 
MAS in Urban and Territorial Design
, the sessions see invited guests address the theme of the semester: "
Counterprojects of Coexistence
". The sessions, offering a combination of theoretical positions and professional design experience, address the challenges of spatial, social and energy transition through various contributions: from human geography, urban studies, spatial design, environmental studies and system thinking. Ranging in scale from the global to the local, focusing on the urban commons and ecological transition, each session sees the guests present their work followed by a moderated discussion together and with the audience.
About speaker 
Architect-urban planner, Simon Teyssou was born in Paris in 1973 from an American mother and a French father. He spent his childhood in the Cantal and in the United States, then studied architecture in Clermont-Ferrand and Aberdeen in Scotland. Graduated in 2000, he returned to the Cantal region and settled in Rouget, a town of a thousand inhabitants. Founded in 2000, the Rouget workshop now employs about twenty people and is based on transcalar and transdisciplinary thinking. The agency is concerned with soils, resources, the future of ruralities and small towns, uses, construction methods, economy of means and designs projects adapted to rural areas in France. He taught architectural design at the National School of Architecture in Clermont-Ferrand from 2004 to 2018 before becoming the director of the school. He has been an associate member of its "Resources" research laboratory since 2015. He was also the winner of the 2023 global award for sustainable architecture and « Le Grand Prix d'Urbanisme 2023 ».
Contact
Export Event
Event broadcasted in
File