Reflected in Water - Sustainability Series with Prof.Andrea Rinaldo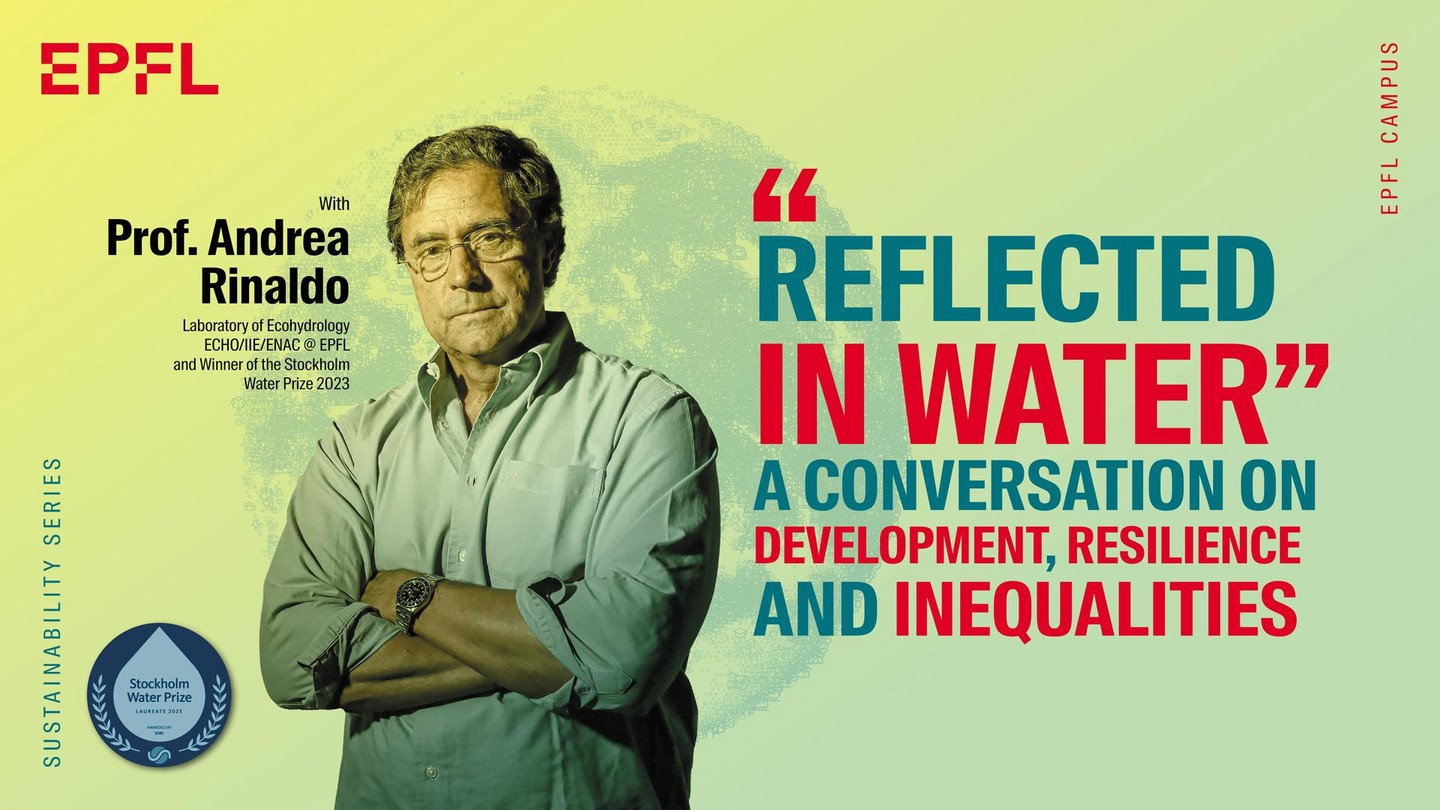 Event details
Date

31.05.2023

Hour

12:15

›

13:30

Speaker

Prof.Andrea Rinaldo

Location
Category
Conferences - Seminars
Event Language
English
REFLECTED IN WATER
a conversation on development, resilience and inequalities

Prof.Andrea Rinaldo
Laboratory of Ecohydrology ECHO/IIE/ENAC at EPFL
and Winner of the Stockholm Water Prize 2023

Wednesday, May 31, 2023 | 12:15pm | Forum Rolex

Registration required - lunch bags offered


Programme
 
12:00  Doors open
12:15  Welcome words

Prof. D. Andrew Barry, Head of the EPFL Environmental Engineering Institute

12:25  Talk by Prof.Andrea Rinaldo
13:00  Interview

Marc-Antoine Courtois, Student, Section of Environmental Sciences and Engineering

13:15  Q&A
13:30  End & lunch bags distribution

Presentation

Prof. Andrea Rinaldo is an EPFL expert in hydrology, Head of EPFL's Laboratory of Ecohydrology – ENAC Faculty – since 2008 and is also a Professor at the University of Padua. He was selected as the 2023 winner of the Stockholm Water Prize – the world's most prestigious award in water research.

The work he has completed throughout his career focuses on the study of water flow and, in particular, river networks, true "ecological corridors" that explain the movements of living organisms and certain fundamental biological phenomena.

Born in 1954 in Venice – a "floating city" that undoubtedly shaped his career interest in water –, Rinaldo has made an outstanding contribution to his field. He is the author of over 300 journal articles as well as several books published by major scientific publishing houses. He has also carried out field research in Haiti, Burkina Faso, South Sudan and other countries.

During his conference, Professor Andrea Rinaldo will discuss how the spread of diseases, the loss of biodiversity and the inequalities between populations on a global scale are all problems that are reflected in water, and what tools should be used in ressources plans to address them.
 
Links
Practical information
General public
Registration required
Contact
Export Event
Event broadcasted in