Research Seminar : RESONANCES / ALICE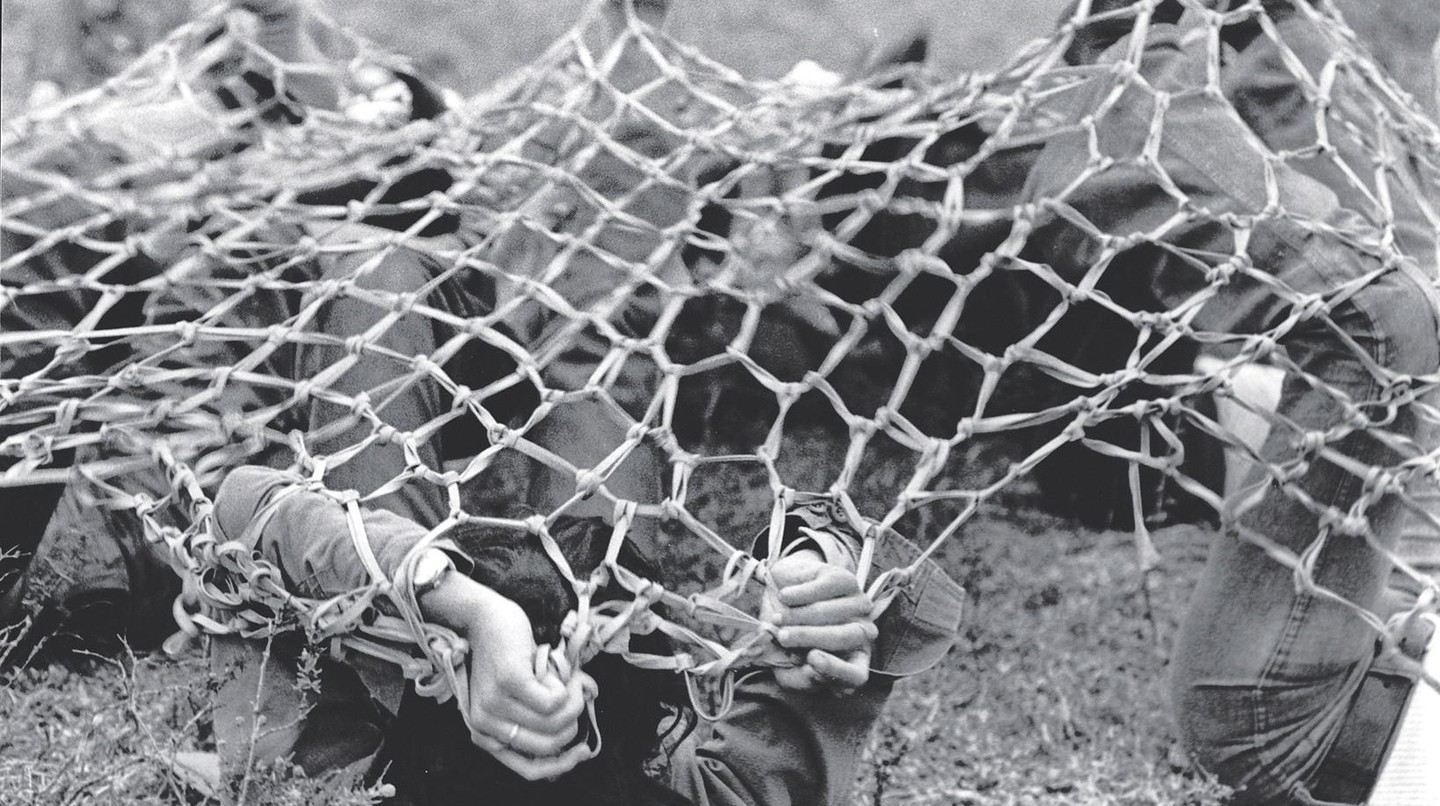 Event details
Date

15.06.2023

Hour

14:00

›

18:00

Speaker

Joseph Baan Mathilde Chenin

Location
Category
Conferences - Seminars
Event Language
English
[ALICE] Research Seminar : RESONANCES
14:00 - 18:00
Studio 2, Rue du Valentin 35, Lausanne 

What does it mean to get attuned with a place? What forms of intimacies and care does it unravel? 
If resonance is defined as a specific vibratory quality, as an echo of attachment between a space and its inhabitants, what are the textures of these vibratory qualities? To which extent can collective practices become levers of re-attunement? What are the roles of building in these processes?
This ALICE's Research seminar Resonances will explore affective dimensions of spaces and landscapes to understand how attunement processes are essential practices to navigate in contemporary uncertainties and discrepancies. We propose to give specific attention to how these resonances are produced through commonings and everyday habits and what traces they leave within our milieu and us. Through a lecture from Mathilde Chenin, a performance proposed by Jo Baan and discussions, we will address the micropolitics of vibratory qualities and the ways in which tracing, drawing, and building participate in strengthening vibratory solidarities with our milieus and beyond.
Keywords : Vibrative qualities, attunement, script, collective practices, singularities

14:00 - Studio 2
Introduction
Tiphaine Abenia
Julien Lafontaine Carboni

14:30 - Studio 2
Shifting Singularities
Performance Workshop
Joseph Baan
In this performance workshop we will investigate how to compose the common in singularity. In this case, singularity is understood as the self, with all the ambiguous, disorganized, messy, and sometimes contradicting parts that make up the self. At the heart of this investigation lies how to navigate singularity within groupness, and how to find resonances in decentral, perhaps even conflictual encounters. Ambiguous, conflicting moments and presences constantly occur within the self and in relation. Rather than looking for common ground, we will treat such conflicting moments as a place where resonance can emerge. Through a series of scores and movement exercises, we will consider what it means to affect and to be affected; what it means to inconvenience and to be inconvenienced; and how the self might shift in relation. Please wear comfortable clothes that allow you to move freely.


16:30 - Studio 2
Presence, resonance, somatic. Vibratory qualities of commonality in the plural
Lecture
Mathilde Chenin
The presentation will look back at the investigations I carried out during my doctoral research with two artists' collectives (La Déviation, in Marseille, and Bermuda, in Sergy), one of whose distinctive features is that they spend most of their time materially fabricating their shared living and working space. In this respect, we will focus on the one hand on their gestures: how do they build those places, even though they're not carpenters, plasterers, electricians, tilers, etc., and what can we learn from the heterodox and idiosyncratic way they use the construction techniques? On the other hand, we will unpack the ordeals and tribulations associated with this commitment to the collective construction effort: how do the groups cope with the disputes that emerge, and how do they continue to hold together? Equipped with the epistemological tools of pragmatic sociology, we'll be looking at how making together, because it brings bodies not only into presence, but literally into resonance, opens the field to a regime of engagement in action that is, strictly speaking, somatic, defeating usual and liberal types of resolutions, and giving way to the composition of a commonality based on the vibratory qualities of co-presence.


Contributers :
Josephine Baan (also goes by the names Joseph, Jo, or any variation thereof) engages in art, education and collaboration as ways to forge creative resurgence. They're interested in the complexities of collectivity and in the possibility of establishing a solidarity that does not homogenise, but affirms difference. Josephine performs with their body and voice and makes installations, props, scripts and choreographies that explore the spaces and relationships between the flesh and the word, human and non-human bodies, and change and preservation. Materially and performatively thinking between things, beings and situations, they consciously switch perspective to influence roles and readings of power and control in relation to affection and gestures of care. They use speculative fiction and performance as tools to invade existing narratives that naturalize normative states of sex, gender, race, ecology, and the hierarchies between them. Their practice is closely linked to their work as an educator, which is influenced by radical pedagogy and non-hierarchical collaborative methods.

Mathilde Chénin is a visual artist. Her work emphasizes versions over finished forms, and privileges collaboration as an important aspect of her research. The collective space of being and working together is explored through an idea of expanded writing practices navigating between bodies, techniques, and language. Her work is an elaboration of different kinds of systems, immaterial and utopian architectures genealogies, scores and other collective large objects. In 2016, she is the co-founder of the project bermuda — a self-built site of shared studios for artistic production and research (Sergy, FR) — alongside with artists Maxime Bondu and Guillaume Robert, curator Bénédicte Le Pimpec, et computer programmer Julien Griffit. In 2022, she defended a PhD in sociology. Following the collective trajectory of two places where artists both live and work, the research focused on forms of commonalities, which compose at the crossroad between dwelling and creating, two social activities that are told to be resistant to extended forms of communities (HEAD—Genève; Laboratoire de Sociologie Urbaine, EPFL Lausanne).

www.mathildechenin.org
www.bermuda.pm

Everyone is welcome to join ! Let us know with an email if you wish to participate.