Call for proposal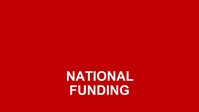 Wednesday 27 March 2019
[ Collective Research Networking (CORNET) | International pre-competitive research funding on energy ]
CORNET was initiated as an ERA-NET in 2005 and was supported by the European Commission's 6th and 7th Framework Programme for Research and Development until 2011, when it became a self-sustained network. CORNET's aim is to increase competitiveness of SMEs by funding international pre-competitive, market-oriented research projects via biannual calls for proposals.
 
The calls follow a bottom-up approach: every topic that supports SMEs in their innovation efforts is welcome. However, Swiss-based applicants can only participate in consortia focusing on energy research in various fields of energy efficiency, renewable energies and sustainable energy use and supply: funding for applicants based in CH comes from SFOE.
 
The main types of targeted activities are:
industrial research and development
applied research and development.
Who can apply:
At least 2 different countries or regions.
At least an SME organisation, association or cluster, a researcher and an SME user committee with min. 5 SMEs in each country or region.
 
Duration: max. 24 months
 
Funding:
Maximum funding for Swiss-based applicants: no limit.
Eligible costs: personnel, overhead, travel & subsistence, equipment, material, consumables, equipment depreciation, subcontracting costs / expenditures that are not part of R&D.
Please contact carina.alles@bfe.admin.ch (SFOE) to verify your eligibility for the call and obtain the national application form.
 
Deadline: 27 March 2019 at 24h00 CET.
Average success rate: 66%
Rejected proposals can only be resubmitted once.
Earliest starting date: November-December 2019
 
For further information, please have a look at the call webpage, call guidelines, application templates, National Eligibility Criteria, FAQs, online application portal and supported projects. Find a project partner.
 
Contact Research Office
Accessibility General public
Admittance Free