Digital Competitiveness Summit 2020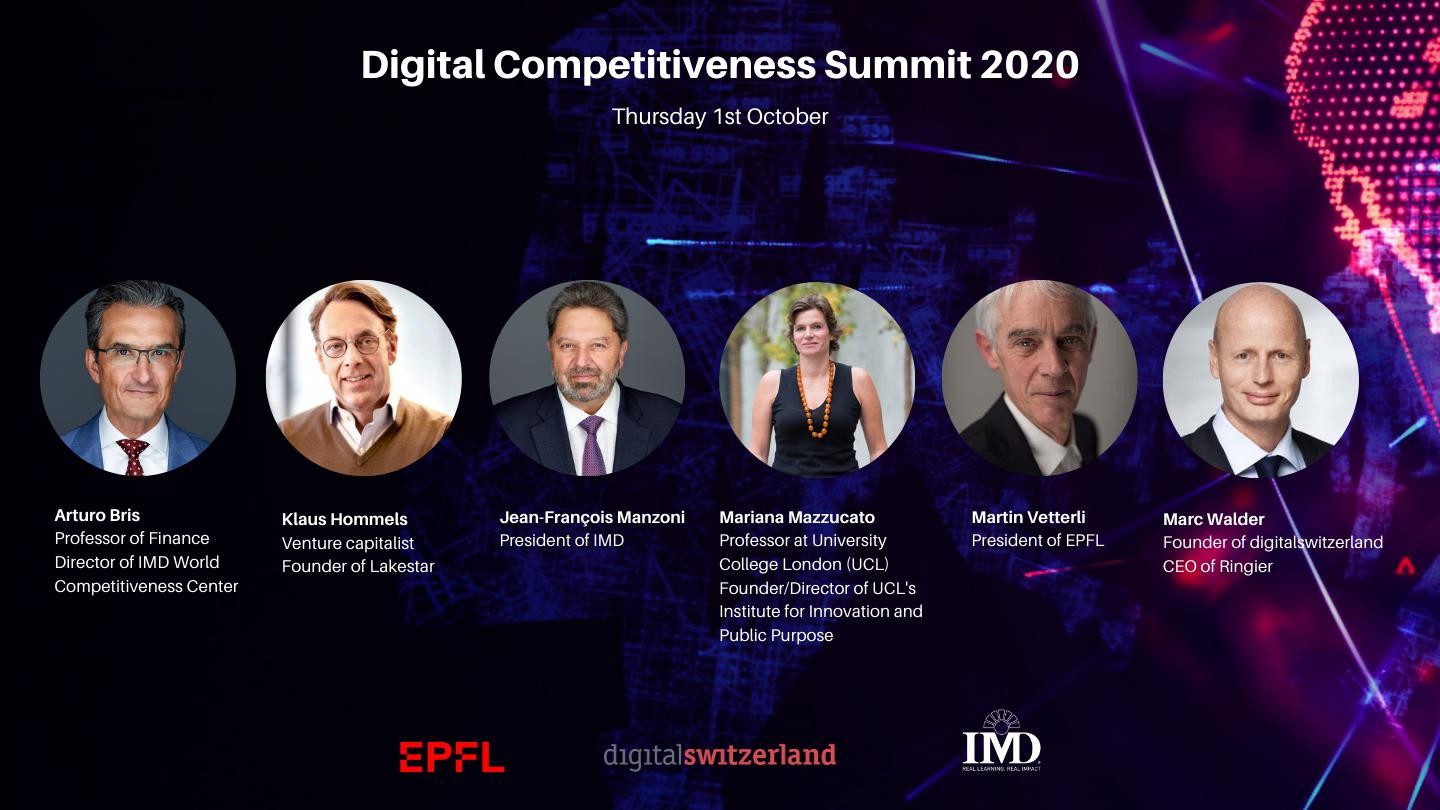 Event details
Date

01.10.2020

Hour

17:30

›

18:15

Speaker

Arturo Bris, Mariana Mazzucato, Klaus Hommels, Martin Vetterli, Marc Walder, Jean-François Manzoni

Location
Category
Conferences - Seminars
The Digital Competitiveness Summit 2020, co-organised by digitalswitzerland, EPFL and IMD, will take place online, on Thursday 1st of October, from 5:30pm to 6:15pm.

At this exceptional event, Prof. Arturo Bris, Director of the World Competitiveness Center and Professor of Finance at IMD, will exclusively reveal the 2020 edition of the World Digital Competitiveness Ranking, with a special focus on Switzerland.

In addition, two eminent speakers will provide their insights through a lively dialogue on digital competitiveness :
Prof. Mariana Mazzucato - Economist at University College London (UCL), Founder/Director of UCL's Institute for Innovation and Public Purpose, and author of the award-winning The Value of Everything: Making and Taking in the Global Economy.
Klaus Hommels - Venture capitalist and founder of the Lakestar fund in Zürich.

Attending this event will not only give you a clear idea of Swiss digital competitiveness and its position at a global level, but also provide you with the opportunity to submit your specific questions to the invited speakers.


Full programme:
Introduction - Martin Vetterli, President of EPFL
Presentation of the Digital Competitiveness Ranking 2020 - Prof. Arturo Bris
Dialogue between Prof. Mariana Mazzucato and Klaus Hommels on the lessons to learn from Switzerland's position in the 2020 Ranking, moderated by Marc Walder, Founder of digitalswitzerland
Q&A session with the audience
Conclusion - Jean-François Manzoni, President of IMD

For more information, visit the Digital Competitiveness Summit landing page
Practical information
Informed public
Registration required
Organizer
EPFL, IMD, digitalswitzerland
Export Event
Tags
Digital Competitiveness Summit
Event broadcasted in