Photonics Simulation with COMSOL®: A Multiphysics And Multiscale Approach
Cancelled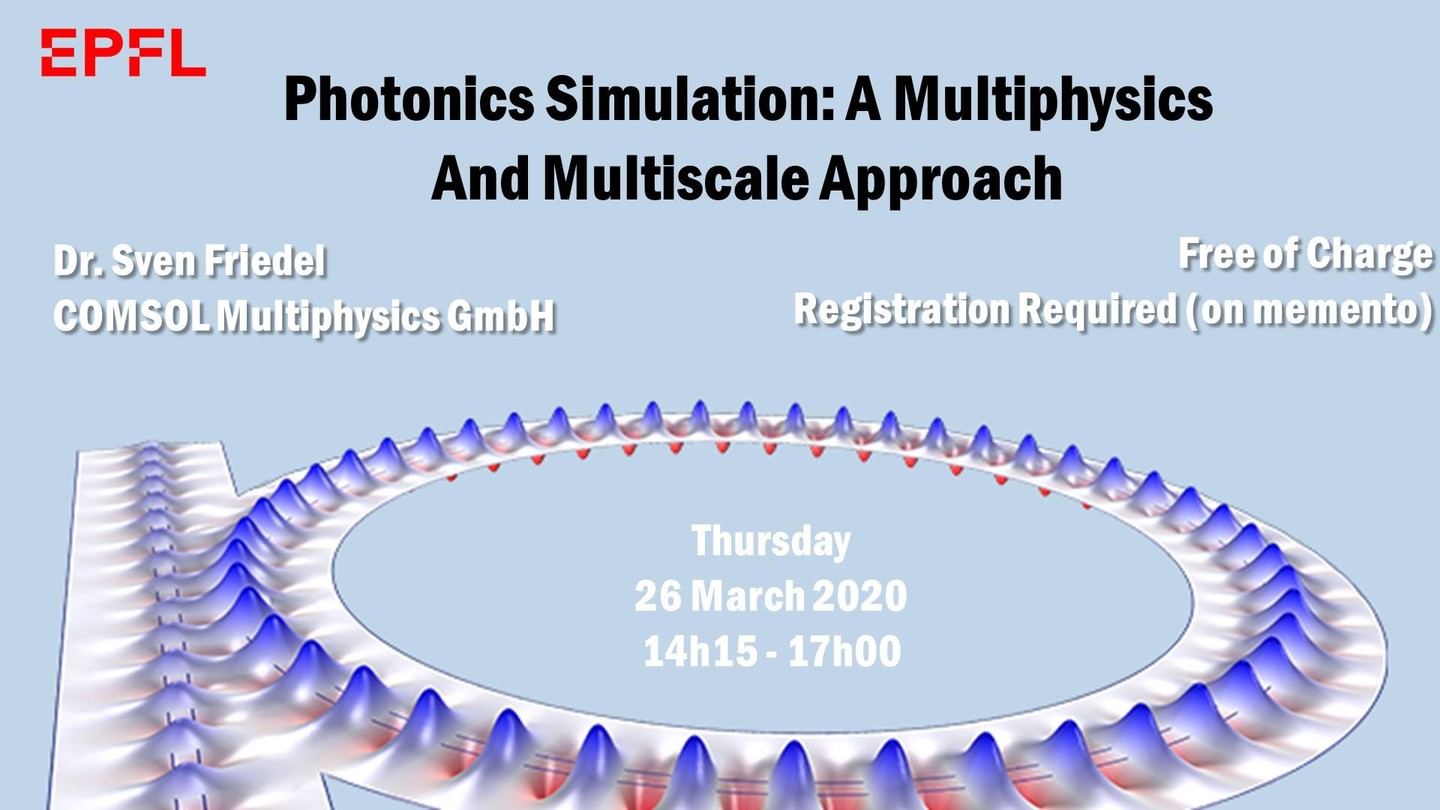 Event details
Date and time

26.03.2020

–

14:15

›

17:00

Place and room
Speaker
Dr. Sven Friedel,
COMSOL Multiphysics GmbH
Category
Conferences - Seminars
THIS EVENT IS POSTPONED TO AN UNDEFINED LATER POINT IN TIME DUE TO COVID-19 RESTRICTIONS IN PLACE.

All registered participants registered with the link below will be informed about the updated date in due time.

Abstract: Photonics devices are currently employed in a wide range of applications including sensing, communication, computing, renewable energy, medical technology and material processing. Some scientifically most exciting and technologically most promising applications deal with phenomena, where a light interacts with other physical realities such as heat transfer, mechanics, electromagnetics, fluidics, acoustics, and quantum effects. Thanks to the increasing availability of powerful computational methods and computers, the behaviour of such complex systems can be predicted and optimized. However, the specific ratio between light wavelength and device size may require radically different numerical simulation techniques, such as finite element full wave resolution, beam envelope methods, ray tracing or purely thermal approximations, as well as frequency domain, time-domain or stationary analyses.
In this seminar we present a multiphysics and multiscale approach for photonics simulation using COMSOL Multiphysics® software and from the perspective of industrial research. The outset is that multiscale and multiphysics effects are not the exception but rather the rule, and are key drivers for innovation in technology and fundamental research.

Dr. Sven Friedel, COMSOL Multiphysics GmbH, holds a MSc. And PhD in Physics from the University of Leipzig and an MSc. In Geo- and Planetary Physics from the University of Newcastle Upon Type. In his academic career Sven has worked intensively in computational electromagnetics from statics to waves, and inverse methods in non-destructive testing and transport processes in porous media. In 2004, after a PostDoc time at ETH Zurich, he established the COMSOL branch office in Switzerland and has since helped with his team countless industrial and academic researches with Multiphysics simulations. Sven is regularly teaching courses on low and high frequency electromagnetic modeling.

Event Free of Charge, yet Registration Required: https://forms.gle/nB9Bdg2GQoazPL5p9 

The course is limited to 30 participants due to a limited number of available workstations and licenses. first come first serve. gaspar login required to access workstation.