Advancing Electron Microscopy to study Parkinson's Disease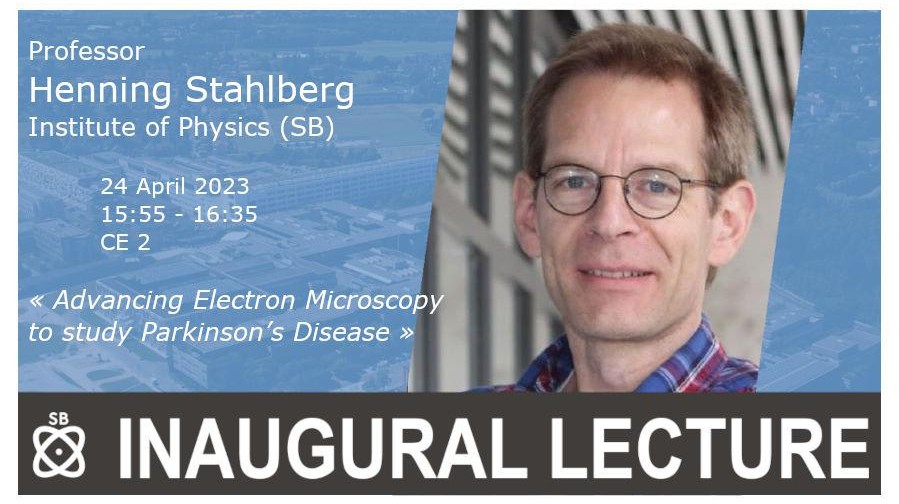 Event details
Date

24.04.2023

–

15:55

›

16:35

Speaker

Prof. Henning Stahlberg, Laboratory of Biological Electron Microscopy, EPFL

Location
Category
Inaugural lectures - Honorary Lecture
Event Language
English
15:15  Inaugural lecture Prof. G. Ramirez
15:55  Inaugural lecture Prof. H. Stahlberg

Parkinson's disease is a neurodegenerative disease characterized by Lewy body plaques in the brain, which are filled with the protein alpha-synuclein (aSyn). Fibrils of aSyn are found in PD and other diseases, such as Multiple System Atrophy (MSA) and Dementia with Lewy Bodies (DLB). The structural analysis of such fibrils by cryo-electron microscopy (cryo-EM) will be presented, and structures of different aSyn fibril strains will be discussed. In parallel, EM studies of post-mortem human brain will be presented.
Cryo-EM can reach atomic resolution for large and stable proteins but fails for smaller or flexible proteins. To maximize high-resolution contrast, we develop aberration-corrected, convergent electron diffractive ptychography imaging for single particle cryo-EM. In another experiment, we use stroboscopic illumination with single electrons at GHz frequency to test if this can reduce the beam damage for a protein samples, thereby enabling cryo-EM data collection with higher electron doses.

Bio
Prof. Dr. Henning Stahlberg is a professor at the Institute of Physics at the EPFL and a professor ad personam at the faculty of Biology and Medicine at the University of Lausanne, Switzerland. He studied physics at the TU Berlin in Germany, received his PhD in 1997 in structural biology (Prof. Jacques Dubochet and Prof. Horst Vogel) from the University of Lausanne and the EPFL in Lausanne, Switzerland, and his Habilitation (Prof. Andreas Engel) in 2002 from the University of Basel, Switzerland. He joined UC Davis in California, USA, in 2003 as assistant, then associate professor in molecular and cell biology. From 2009-2021, he was professor at the Biozentrum and director of the Center for Cellular Imaging and NanoAnalytics (C-CINA) of the University of Basel, Basel, Switzerland. Dr. Stahlberg was appointed as professor in 2021 at the EPFL and UNIL, where he has established the Dubochet Center for Imaging (DCI) in Lausanne in 2020/2021, a multi-campus research platform for cryo-electron microscopy.
His group, the Laboratory of Biological Electron Microscopy (LBEM) develops methods to advance cryo-electron microscopy, and the group studies the molecular mechanisms associated with the development of neurodegenerative diseases.

Dr. Stahlberg's scientific contributions include 210 publications in major peer reviewed journals and two patents on method development in electron microscopy. Dr. Stahlberg is recipient of the NSF CAREER award (2004), the UC Davis Chancellor's Fellow Award (2008-2013), the W.M. Keck Award (2009), and was elected honorable member of the Swiss NanoSciences Institute of the University of Basel (2021).
Links
Practical information
General public
Registration required
Contact
Export Event
Event broadcasted in