Campus Biotech Neuromodulation Workshop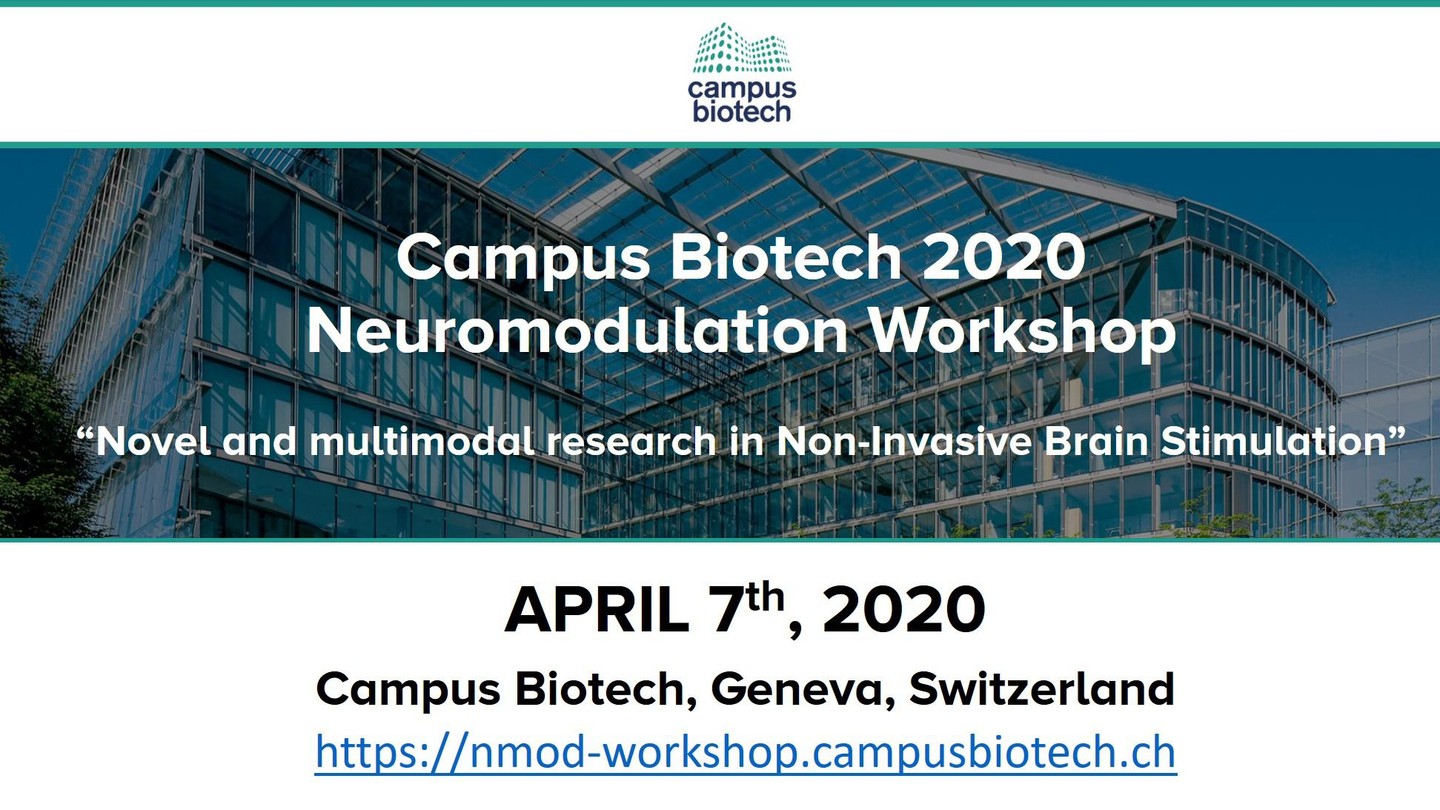 Event details
Date and time

07.04.2020

–

08:00

›

18:00

Place and room

Campus Biotech, Chemin des Mines 9, 1202 Geneva

Speaker
Friedhelm Hummel (Center for Neuroprosthetics, EPFL),  Axel Thielscher (Danish Research Center for Magnetic Resonance, Copenhagen), Gesa Hartwigsen (Max Planck Institute for Human Cognitive and Brain Sciences, Leipzig), Til Ole Bergmann (German Resilience Center, Mainz), Silvia Marchesotti (Dept of Basic Neurosciences, University of Geneva), Nir Grossman (UK Dementia Research Institute, Imperial College London), Marc Bächinger (Dept of Health Sciences and Technology, ETH Zurich), Estelle Raffin (Center for Neuroprosthetics, EPFL), Roland Beisteiner (Dept of Radiology, Medical University of Vienna)
Category
Conferences - Seminars
The Campus Biotech is proud to host on April 7th, 2020 a one-day research-oriented workshop focusing on "Novel and Multimodal research in Non-Invasive Brain Stimulation (NIBS)".

This special event will include several lectures from experts in the field of neuromodulation as well as vendor exhibitions, demos and hands-on training sessions in state-of-the-art brain stimulation techniques combined with neuroimaging, such as Electroencephalography (EEG) or Magnetic Resonance Imaging (MRI).

Thanks to the equipment available at Campus Biotech, we also plan on demonstrating how to best conduct experiments involving concurrent Transcranial Magnetic Stimulation (TMS) and EEG, transcranial Alternating Current Stimulation and EEG, but also concurrent TMS and functional MRI! This is a unique opportunity to exchange around new technology and share precious experience and knowledge on how to best combine imaging with the many stimulation techniques available to scientists.

The registration for this event is free but the number of seats is limited in order to ensure that everyone can benefit from the experience of our experts during the hands-on sessions.

Please visit https://nmod-workshop.campusbiotech.ch for the complete list of speakers, register online and join us at Campus Biotech in Geneva on April 7th, 2020!
 
Links
Practical information
Informed public
Registration required
Contact
Olivier Reynaud, Fondation Campus Biotech Geneva, Chemin des Mines 9, 1202 Geneva, Phone : +41 79 123 51 21 E-mail : neuromodulation [at] fcbg.ch
Export Event
File