Final of the competition "My Thesis in 180 seconds"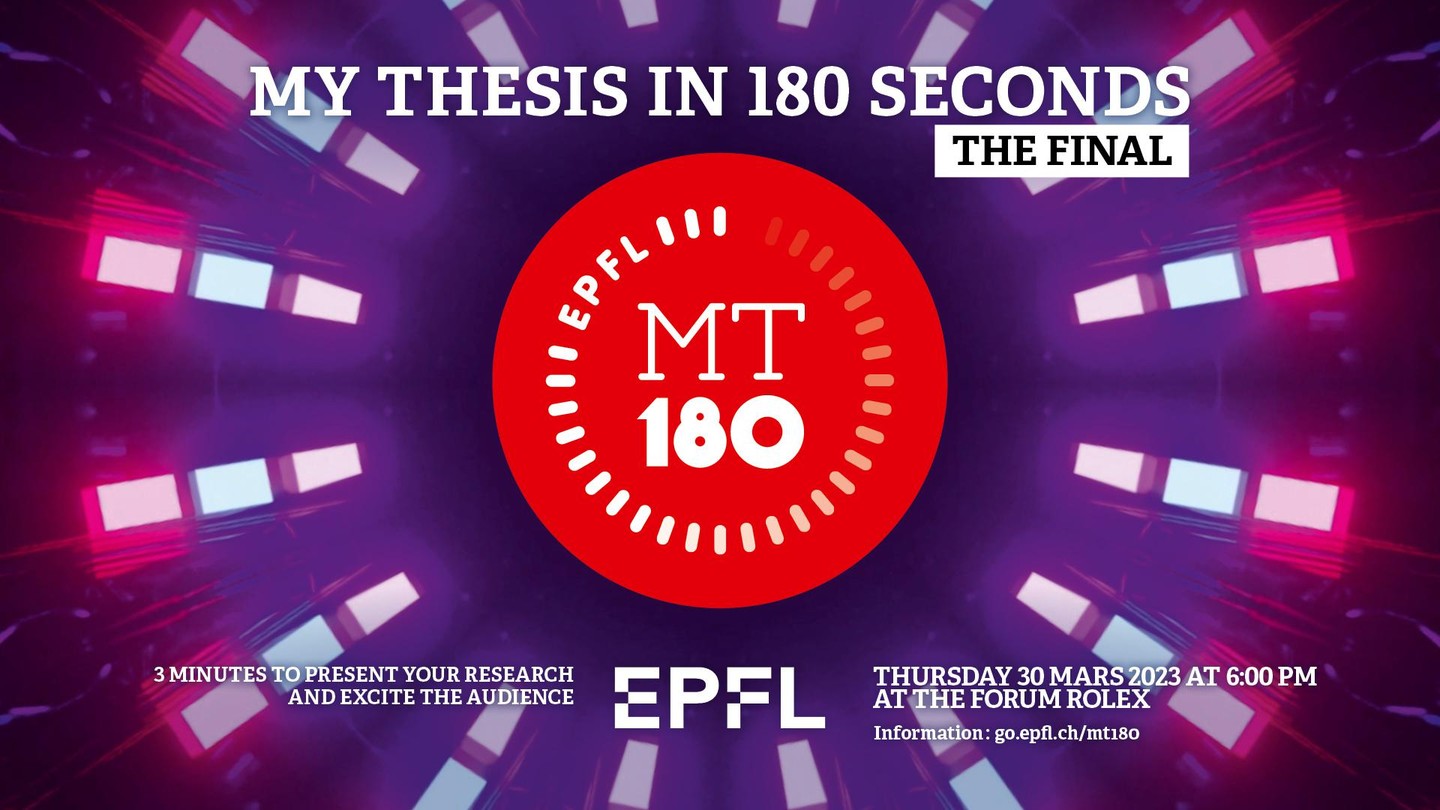 Event details
Date

30.03.2023

–

17:45

›

19:45

Speaker

MT180 Finalists

Location
Category
Public Science Events
Event Language
French, English
The 14 PhD Students finalists of the competition My Thesis in 180 seconds (MT180) will present their research in simple, straightforward terms in 3 minutes exactly, in English or in French, using humour, metaphores and examples.
A jury made up of people from the scientific community and the broader science world, the business world and the media will decide between the doctoral candidates and award a prize to the three best candidates. The prizes are CHF 1000, CHF 700 and CHF 400 for the 1st, 2nd and 3rd places.

A special audience prize of CHF 400 will also be awarded by the public on site (no online voting): come to learn more about EPFL research and vote for your favorite candidate !

The 7th Edition of the EPFL Final My Thesis in 180 seconds is free and open to the public !
17h30: Opening of the doors, free entrance, registration
18h00: Beginning of the Final
MT180 EPFL Finalists Running Order:
Eugénie Mas, «Impact of tree species interactions on tree water relations under warmer and drier climate», Labo écologie végétale (Prof. Charlotte Grossiord), Français
Armand Kurum, «Cancer biomechanics in immunotherapy», Biomaterials for Immunoengineering Lab (Prof. Li Tang), English
Gaétan Raynaud, «Characterization and control of slender flexible structures interacting with flows», Labo de diagnostic des écoulements instationnaires (Prof. Karen Mulleners), Français
Lucie Chanvillard, «Balancing NAD+ Metabolism and Senescence in Chronic Kidney Disease», Institute of Health Sciences, Nestlé Research (Dr. Jerome Feige), Français
Anna McCann, «Finding information-rich electrocardiographic biomarkers to characterize atrial fibrillation», Labo traitement des signaux 2 (Dr Jean-Marc Vesin), Français»
Yamin Sepehri, «Smart Edge in Hierarchical Vision Systems», Signal Processing Lab 4 and CSEM (Prof. Pascal Frossard and Dr Andrea Dunbar), English
Outman Akouissi, «Advanced peripheral nerve interfaces», Chaire Fondation Bertarelli en neuro-ingénierie translationnelle (Prof. Silvestro Micera et Stéphanie Lacour), Français
Dorian Herle, «NEMS optomechanical switches for reflective display applications», Advanced Nano-electromechanical Systems Lab (Prof. Guillermo Villanueva), English
Loris Di Natale, «Physics-inspired Deep Learning for Building Modeling and Control», Automatic Control Lab 3 (Prof. Colin Neil Jones), English
Chuen-Ru Li, «Selectively permeable microcapsules», Soft Materials Lab (Prof. Esther Amstad), English
Anita Bodac, «Targeting innate immunity aging to fight lung cancer», Labo Approches moléculaires du vivant et ISREC (Prof. Etienne Meylan & Freddy Radtke), Français
Nils Kalbfuss, «Dissecting centriole fate during C. elegans development», Cell and Developmental Biology Lab (Prof. Pierre Gönczy), English
Eva Baur, «Granular elastomers for 3D printing applications», Labo de la matière molle (Prof. Esther Amstad), Français
Sara Behjati, «Designing DNA wrapped single-walled carbon nanotube optical biosensors for cancer biomarker detection», Nanobiotechnology Lab (Prof. Ardemis Boghossian), English
Jury Composition:
Gisou van der Goot, President of the Jury, Professor at the Faculty SV and Vice President for Responsible Transformation at EPFL
Ambrogio Fasoli, Jury Member, Professor at the Faculty SB and Associate Vice President for Research at EPFL
Marilyne Andersen, Jury Member, Professor at the Faculty ENAC and President of the Committee EPFL Fribourg
Mauro Lattuada, Jury Member, Technology Transfer Manager à l'EPFL
Jelena Kovacevic, Jury Member, Responsible for the foundation Chamber of Commerce and Industry (CVCI)
Bastien Confino, Jury Member, Scientific Journalist RTS
Speaker:
Anne-Laure Gannac, Journalist
Welcoming Words:
Kahryn Hess Bellwald, Associate Vice President for Student Affairs and Outreach

The CVCI Foundation reflects the support of the economy for research, education and innovation in the canton de Vaud.
 
Practical information
General public
Registration required
Export Event
Tags
MT180
EPFL Final
Competition
PhD
Research
EPFL
SPS
Event broadcasted in