Inaugural Lecture - Prof. Devis Tuia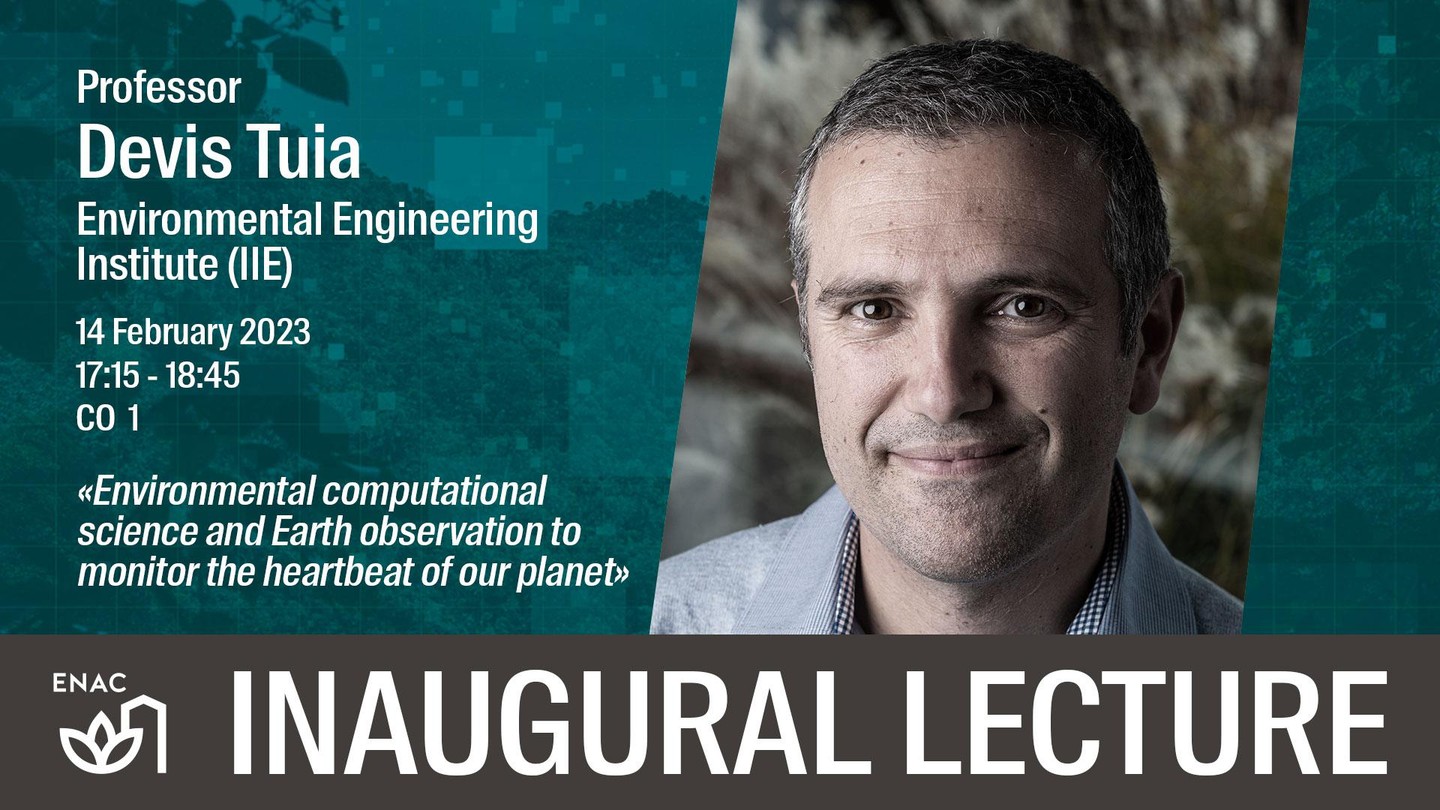 Event details
Date

14.02.2023

Hour

17:15

›

18:45

Speaker
Prof. Devis Tuia
Location
Online
Category
Inaugural lectures - Honorary Lecture
Event Language
English
Date: 14 February 2023
Time: 17:15 - 18:45
Introductions by the Dean, lectures by Prof. Jérôme Chappellaz and Prof. Devis Tuia. Followed by an Apero.
Place: CO 1
Zoom link

Title:
"Environmental computational science and Earth observation to monitor the heartbeat of our planet"

Abstract
Availability of data about Earth has never been better: satellites, drones and social media give us the means to perform environmental monitoring efficiently. However, the data is heterogeneous, often unstructured, and the technology to extract the relevant information remains complex, therefore gatekeeping its benefits from non specialists. If advances in machine learning now allow us to design information mining strategies that combine data source, highlights trends and detects anomalies, new technologies to facilitate access to the extracted information are urgently needed. 
In this talk, I will navigate through the ECEO vision, combining AI technology for multimodal data analysis with strategies rooted in natural language processing to make it accessible to anyone. Through examples in alpine studies, land cover dynamics and coral reefs monitoring, I will showcase how computational science can make a difference to protect our blue planet.

About the speaker
Devis Tuia comes from Ticino and studied in Lausanne, between UNIL and EPFL. After his PhD at UNIL in remote sensing, he was postdoc in Valencia (Spain), Boulder (CO) and EPFL, working on model adaptation and prior knowledge integration in machine learning. In 2014 he became Research Assistant Professor at University of Zurich, then Associate and Full professor at Wageningen University in the Netherlands. Since 2020 he leads the ECEO laboratory of EPFL (in Sion), where he studies Earth from above with machine learning, computer vision and remote sensing.

 
Links
Practical information
Informed public
Registration required
Contact
Export Event
Event broadcasted in