Shelter, Film Projection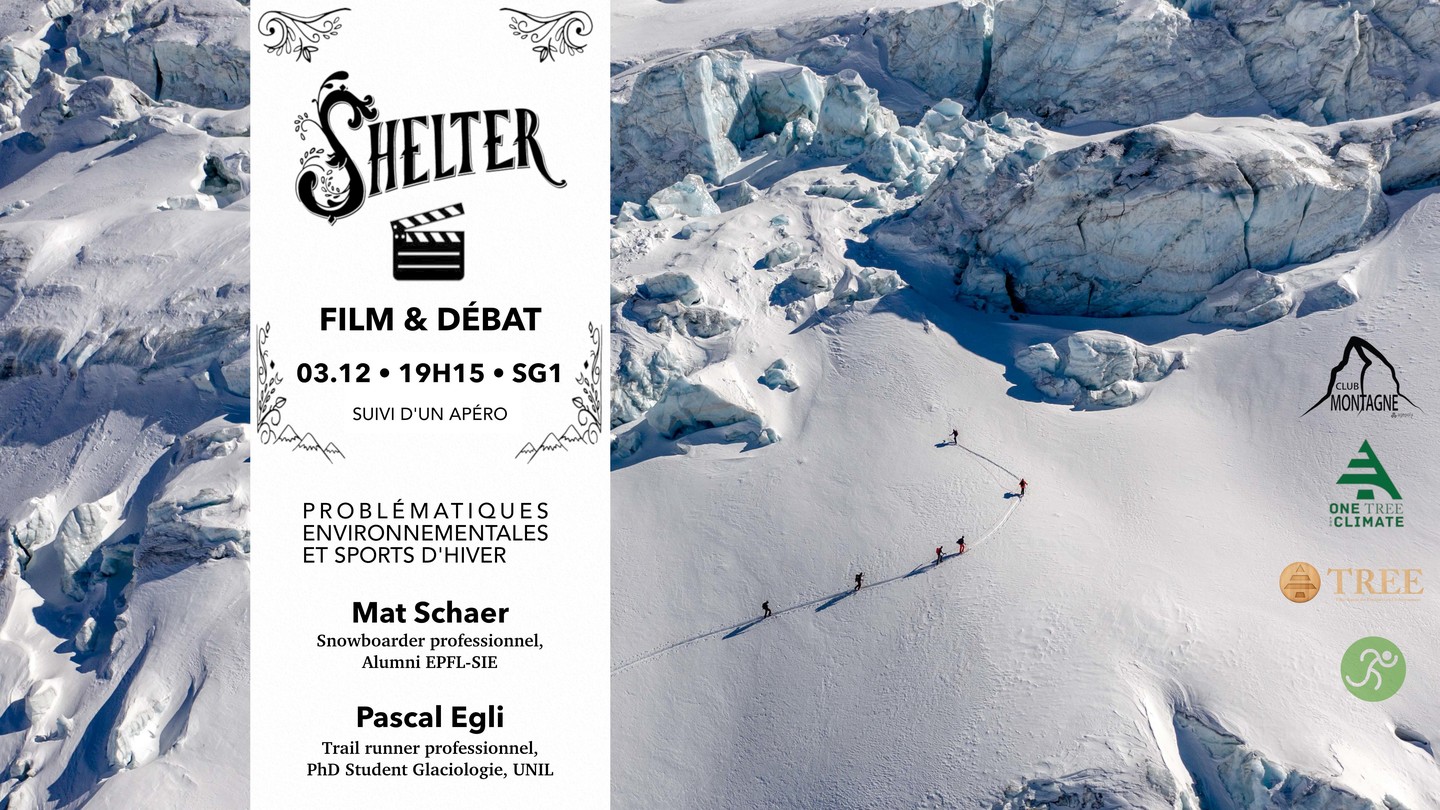 Event details
Date and time

03.12.2019

–

19:15

›

22:00

Place and room
Speaker

Mat Schaer (Alumni EPFL-SIE), Adrien Michel (PhD CRYOS, EPFL), Pascal Egli (PhD glaciology, UNIL)

Category
Movies
7:15 pm, SG1 auditorium 
  
 Screening of the ski and snowboard film "Shelter", combining the passion for mountains and the commitment to the fight against global warming. The experience of Mat Schaer, an elite snowboarder and Alumni EPFL-SIE, raises questions about the climatic impact of such a sport, and the ways in which it can be remedied. Is it possible to look for fresh snow without severely impacting the climate? What is the impact of climate change on Alpine landscapes and practices?
  
 The screening will be accompanied by interventions from Adrien Michel, PhD at the CRYOS laboratory at EPFL, Pascal Egli, Phd in glaciology at UNIL and elite trail runner, and the POW association (Protect Our Winters).
 
 At the end of the evening, there will be an aperitif, co-organized with the help of Le Castor Freegan, during which you will be able to discuss freely with the speakers. The goal of the evening is to produce as little waste as possible #zerowaste. 
 
N.B. The screening will be made in the original version, with parts in French subtitled in English and parts in English subtitled in French.
Practical information
General public
Free
This event is internal
Organizer
One TREE for Climate, Club Montagne, Protect Our Winters Switzerland
Contact
Andrea Vittorio Quilici (EPFL), Gaelle Prigent (EPFL)
Export Event
Tags
Climate Change Awareness
Event broadcasted in