Inaugural lectures - Honorary Lecture

17:00-19:00
HEIG-VD (Aula) Route de Cheseaux 1 1400 Yverdon-les-Bains
By
eduardo.sanchez@epfl.ch
Sciences Activities for Youth

Deadline
CHUV - Auditorium César Roux - Lausanne

Selon la directive sur l'utilisation des cartes de crédit d'achat (Lex 5.4.1, art.11.), le gestionnaire de la carte doit contrôler les dépenses et indiquer dans SDG2 les informations comptables. Cette date marque le délai d'envoi au service comptabilité de tous des documents justifiant les dépenses effectuées par la carte de crédit d'achat ainsi que du ...
Read more about "Délai des cartes de crédits d'achats"

Cultural events

By
Orchestre de la Suisse Romande (OSR)

10:00-17:00
CM 2 420
The Orbital Game Jam is a video games creation competition, but without the competition side. 24 hours to create a game, video or board, from scratch, here's the real challenge! Add to this the great atmosphere of Satellite, the campus bar, important people in the field of video games, and everything for free, who could ...
Read more about "Orbital Game Jam, Round 2"
By
Divers acteurs de l'industrie du jeu vidéo

Sporting events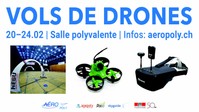 11:00-19:00
CE 1 515
Venez découvrir le vol en FPV à l'occasion de notre séance de vols découverte en salle polyvalente du 20 au 24 février. Au programme : courses, initiations, démonstrations et vols de nuit ! Membre ou non de l'association, vient voler avec nous : des drones sont à disposition (pour tous) mais n'hésite pas à ramener ...
Read more about "Aéropoly - Vol drones | salle polyvalente"
Miscellaneous