Inaugural lectures - Honorary Lecture

17:00-19:00
HEIG-VD (Aula) Route de Cheseaux 1 1400 Yverdon-les-Bains
By
eduardo.sanchez@epfl.ch

18:00-20:00
Polidôme PO 01
Nous présenterons dans notre leçon un bref historique des grands problèmes du calcul des variations comme l'inégalité isopérimétrique, le problème de la brachistochrone, le principe de Dirichlet ou le problème des surfaces minimales. Puis nous parlerons très brièvement de quelques problèmes ouverts. Programme: 18:00 Introduction par le professeur M. Picasso, MATH 18:10 Leçon d'honneur du ...
Read more about "Le calcul des variations: une perspective historique"
By
le Prof. Bernard Dacorogna, MATH (CAA)
Public Science Events
Sciences Activities for Youth

Cultural events

By
Orchestre de la Suisse Romande (OSR)

10:00-17:00
CM 2 420
The Orbital Game Jam is a video games creation competition, but without the competition side. 24 hours to create a game, video or board, from scratch, here's the real challenge! Add to this the great atmosphere of Satellite, the campus bar, important people in the field of video games, and everything for free, who could ...
Read more about "Orbital Game Jam, Round 2"
By
Divers acteurs de l'industrie du jeu vidéo

Sporting events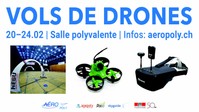 11:00-19:00
CE 1 515
Venez découvrir le vol en FPV à l'occasion de notre séance de vols découverte en salle polyvalente du 20 au 24 février. Au programme : courses, initiations, démonstrations et vols de nuit ! Membre ou non de l'association, vient voler avec nous : des drones sont à disposition (pour tous) mais n'hésite pas à ramener ...
Read more about "Aéropoly - Vol drones | salle polyvalente"
Movies

17:00-19:00
SV 1717
The EPFL Open Science Initiative and the EPFL Library present Paywall: The Business of Scholarship Everyone on campus is invited to join the conversation about Open Access. To provide an entertaining – however interesting – introduction to the topic, we will screen the documentary movie (duration: 65 minutes), followed by a discussion and an apéro. ...
Read more about "Paywall: The Business of Scholarship - Film Screening"
By
Tobias Philipp, OA coordinator at SNSF, Béatrice Marselli, Publication Services ...
Miscellaneous