Inaugural lectures - Honorary Lecture

17:00-19:00
HEIG-VD (Aula) Route de Cheseaux 1 1400 Yverdon-les-Bains
By
eduardo.sanchez@epfl.ch
Exhibitions

11:00-18:00
ArtLab B
The outstanding Catalan philosopher and theologian Ramon Llull (c.1232–1316) encourages us to reread the late Middle Ages. Llull, not only theoretically and linguistically invented a new method of knowledge acquisition, like an engineer, he also mechanized it, and translated it into a machine. The EPFL instance is curated by: Prof. Dr. Amador Vega, (Universitat Pompeu ...
Read more about "Thinking Machines. Ramon Llull and the ars combinatoria"
By
Prof. Dr. Amador Vega, Prof. Dr., CEO and Director Peter ...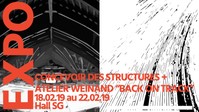 08:00-15:00
Hall SG
Exposition des travaux des étudiants en architecture produits lors des cours "Concevoir des Structures" (BA5) et l'Atelier Weinand "Back On Track" (MA1). Dispensés le long du semestre d'Automne, ces cours permettent de découvrir et d'approfondir la conception de la structure par l'exercice du projet architectural. Les sujets de cette année concernent des programmes sportifs de ...
Read more about "EXPO Concevoir des Structures + Atelier Weinand "Back on Track""

Archizoom
CO-OPERATE En réunissant des constructeurs, architectes, agriculteurs, artistes, artisans et ingénieurs convaincus que l'empathie et la collaboration sont la base de tout travail de qualité, le bureau d'architecture Case Design de Mumbai créée les conditions qui permettent d'édifier des lieux dédiés à l'hospitalité, l'interaction sociale, la réflexion, le jeu, les rituels, l'isolement, l'efficience et le ...
Read more about "Case Design - A School in the Making"
Academic Calendar
Call for proposal
Rare Disease Models and Mechanisms-Europe registry open for registration "Solve-RD – Solving the unsolved Rare Diseases" is a large European research project funded by the EU for five years (2018-2022) under Horizon 2020. The consortium is collaborating with European reference networks (ERNs) to improve the diagnosis of rare diseases. Solve-RD is about to establish a ...
Read more about "Rare Disease Models and Mechanisms-Europe registry open for registration"

The goal of the FAMAE Foundation is to seek pragmatic, efficient, durable, universal and money-saving solutions to make life easier for urban citizens while reducing their environmental footprint. The Foundation launches annual international competitions to enable brilliant and innovative inventors to make their ideas come true or to effectively launch their product. The 2019 competition ...
Read more about "[ FAMAE Foundation - PRECIOUS WATER! | Proof of Concept & Seed funding ]"

NRP 77 will investigate the interrelationships and concrete effects of digital transformation in Switzerland. The NRP will analyse the impacts of digital changes in Switzerland as well as develop possible interventions, experiments and solutions that will make it easier to leverage the opportunities and respond adequately to risks, thereby paving the way for optimal management ...
Read more about "[ NRP 77 Digital transformation | Research funding ]"
Deadline
CHUV - Auditorium César Roux - Lausanne

Selon la directive sur l'utilisation des cartes de crédit d'achat (Lex 5.4.1, art.11.), le gestionnaire de la carte doit contrôler les dépenses et indiquer dans SDG2 les informations comptables. Cette date marque le délai d'envoi au service comptabilité de tous des documents justifiant les dépenses effectuées par la carte de crédit d'achat ainsi que du ...
Read more about "Délai des cartes de crédits d'achats"
Cultural events

By
Orchestre de la Suisse Romande (OSR)
Sporting events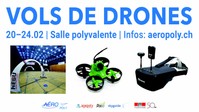 11:00-19:00
CE 1 515
Venez découvrir le vol en FPV à l'occasion de notre séance de vols découverte en salle polyvalente du 20 au 24 février. Au programme : courses, initiations, démonstrations et vols de nuit ! Membre ou non de l'association, vient voler avec nous : des drones sont à disposition (pour tous) mais n'hésite pas à ramener ...
Read more about "Aéropoly - Vol drones | salle polyvalente"
Miscellaneous