Conferences - Seminars


17:10-20:00
CO 2
IMAGINE IF! is a fantastic opportunity to accelerate a scientific idea towards a business and unlike other competitions, it is the first truly global competition for healthcare science ventures. On December 12th we had announced the Swiss 10 finalists who entered the accelerator program. Since then, they have been working with their mentors to go ...
Read more about "IMAGINE IF! Local Finals"
By Marc Gruber - Vice President for Innovation at EPFL Diego Dupouy ...
Cultural events

10:00-17:00
CM 2 420
The Orbital Game Jam is a video games creation competition, but without the competition side. 24 hours to create a game, video or board, from scratch, here's the real challenge! Add to this the great atmosphere of Satellite, the campus bar, important people in the field of video games, and everything for free, who could ...
Read more about "Orbital Game Jam, Round 2"
By
Divers acteurs de l'industrie du jeu vidéo
Sporting events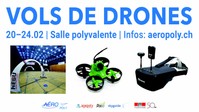 11:00-19:00
CE 1 515
Venez découvrir le vol en FPV à l'occasion de notre séance de vols découverte en salle polyvalente du 20 au 24 février. Au programme : courses, initiations, démonstrations et vols de nuit ! Membre ou non de l'association, vient voler avec nous : des drones sont à disposition (pour tous) mais n'hésite pas à ramener ...
Read more about "Aéropoly - Vol drones | salle polyvalente"