Public Science Events
Internal trainings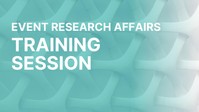 13:30-17:00
BI A0 397
Ce cours s'adresse aux personnes occupant un rôle d'administratice/teur ou de gestionnaire d'équipe pour la gestion des absences au sein d'une unité de l'EPFL. Il est recommandé de le suivre au début de votre activité à l'EPFL. Il a pour but de vous familiariser avec le logiciel de la gestion des absences, en présentant notamment ...
Read more about "Formation Gestion des absences"
By
Service de gestion des absences
Movies

17:00-19:00
SV 1717
The EPFL Open Science Initiative and the EPFL Library present Paywall: The Business of Scholarship Everyone on campus is invited to join the conversation about Open Access. To provide an entertaining – however interesting – introduction to the topic, we will screen the documentary movie (duration: 65 minutes), followed by a discussion and an apéro. ...
Read more about "Paywall: The Business of Scholarship - Film Screening"
By
Tobias Philipp, OA coordinator at SNSF, Béatrice Marselli, Publication Services ...