Inaugural lectures - Honorary Lecture

18:00-20:00
Polidôme PO 01
Nous présenterons dans notre leçon un bref historique des grands problèmes du calcul des variations comme l'inégalité isopérimétrique, le problème de la brachistochrone, le principe de Dirichlet ou le problème des surfaces minimales. Puis nous parlerons très brièvement de quelques problèmes ouverts. Programme: 18:00 Introduction par le professeur M. Picasso, MATH 18:10 Leçon d'honneur du ...
Read more about "Le calcul des variations: une perspective historique"
By
le Prof. Bernard Dacorogna, MATH (CAA)
Public Science Events
Cultural events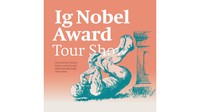 18:00-20:00
Forum Rolex
The Ig Nobel Awards honor research that makes people laugh, then think. With Marc Abrahams Father of the annual Ig Nobel Prize ceremony and editor of Annals of Improbable Research Claire Rind, Institute of Neuroscience, Newcastle University, UK 2005 Peace Prize winner — Monitoring a brain cell of a locust while that locust watches selected ...
Read more about "Ig Nobel Award Tour Show 2018"
By
Marc Abraham, Claire Rind, Marc Fardin, Mark Dingemanse
Movies

17:00-19:00
SV 1717
The EPFL Open Science Initiative and the EPFL Library present Paywall: The Business of Scholarship Everyone on campus is invited to join the conversation about Open Access. To provide an entertaining – however interesting – introduction to the topic, we will screen the documentary movie (duration: 65 minutes), followed by a discussion and an apéro. ...
Read more about "Paywall: The Business of Scholarship - Film Screening"
By
Tobias Philipp, OA coordinator at SNSF, Béatrice Marselli, Publication Services ...
Management Board meetings