Conferences - Seminars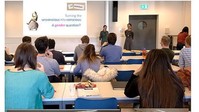 17:30-20:30
Cinema Oblo, Lausanne
En novembre 2004, le premier atelier du programme d'ateliers REGARD avait lieu à l'Université de Fribourg. A l'époque, il n'y avait pas d'offre de formation continue pour les chercheuses en Suisse. Depuis, plus de 2.700 doctorantes, postdoctorantes, maître-assistantes, MER et professeures ont participé aux nombreux ateliers proposés ces derniers 15 ans dans les institutions partenaires. ...
Read more about "Jubilé 15 ans de REGARD"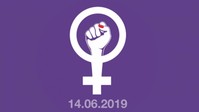 June 14, 1991: a day that has entered the history of Switzerland «Les femmes bras croisés, le pays perd pied» It is with this slogan that women in Switzerland have made themselves heard, ten years after the inclusion of equality between women and men in the Federal Constitution, to finally see this principle come to ...
Read more about "June 14"
Internal trainings

09:00-17:00
EPFL
OBJECTIVES You identify your current professional strengths and weaknesses and can create opportunities to polish and develop your skills in your current position.You identify your own values, needs and priorities for your professional life and can formulate a clear statement which will help you connect with like-minded people. You know the similarities and differences between ...
Read more about "FLP: Career Planning for Scientists (May 21 & May 28)"


09:00-17:00
EPFL
This workshop is opened to both women and men Description Academic mobility comes in two main flavours: accepting a research position abroad, and short-term travelling for collaborations, meetings or fieldwork. Both can provide great opportunities as well as challenges, especially with children involved. Mobility can be an important factor for success in an academic career, ...
Read more about "REGARD Workshop: Academic mobility and dual career planning"