CLIMACT Seminar Series - Sascha Nick & Guido Palazzo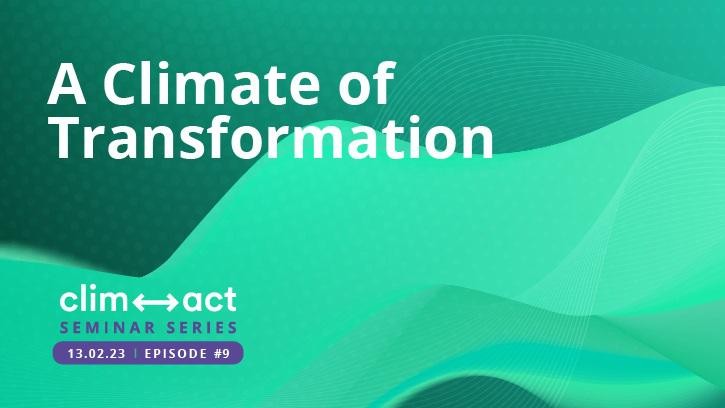 Event details
Date

13.02.2023

–

12:00

›

13:15

Location
Online
Category
Conferences - Seminars
Event Language
French, English
The CLIMACT seminar series "A Climate of Transformation" is an interactive online event. It takes place twice a month, every second Monday during your lunch break, with two new speakers.
Each episode aims to strengthen the dialogue and collaboration between key UNIL and EPFL scientists, swiss politicians, entrepreneurs and various actors from the civil society, through collective reflection.
A wide range of climate change-related topics will be discussed, integrating perspectives from all sectors and academic disciplines in order to generate new leads and initiatives towards systemic solutions.
Your expertise, ideas, critical thinking and vision for the future is essential. 
Join CLIMACT in the discussion!

Towards True Climate Neutrality for Global Aviation: A Negative Emissions Fund for Airlines
Presented by Sascha Nick I Researcher I LEURE, EPFL
What would it take for aviation to reach the IATA and ICAO goals and become truly climate-neutral by 2050? We model how flight CO2 emissions can be reduced by 90% by 2050, to a level where residual emissions can be removed without crowding out other sectors. To make emitters pay for carbon removal, we propose a negative emissions fund for airlines (NEFA), investing in high-quality carbon removal projects designed for biodiversity and societal co-benefits.
Degrowing the airline industry – a cultural challenge
Presented by Guido Palazzo I Professor I FBE, UNIL
There is one very irritating aspect of the ecological crisis: For many problems, technological solutions already exist and have been clearly elaborated. However, still not much is happening. Solutions often clash with deeply routinized values and routines. Flying is one of those practices that is so well enmeshed in our way of life that imagining a beyond is unthinkable for many.
Organizer
Julia Steinberger, University of Lausanne
Athanasios Nenes, EPFL
Contact
Export Event
Event broadcasted in