CLIMACT Seminar Series - Sonia Seneviratne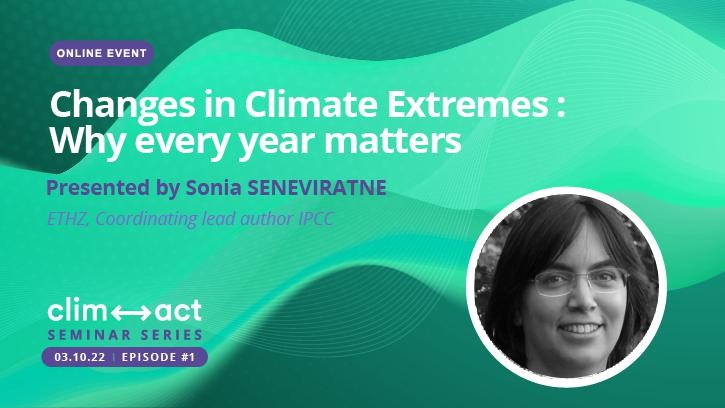 Event details
Date

03.10.2022

–

12:00

›

13:15

Location
Online
Category
Conferences - Seminars
Event Language
French, English
The CLIMACT seminar series is an interactive online event. It takes place twice a month, every second Monday during your lunch break, with two new speakers. Each episode aims to strengthen the dialogue and collaboration between key UNIL and EPFL scientists, swiss politicians, entrepreneurs and various actors from the civil society, through collective reflection. A wide range of climate change-related topics will be discussed, integrating perspectives from all sectors and academic disciplines in order to generate new leads and initiatives towards systemic solutions. Participants are welcome to take part in the discussion in English or French.

To launch the first seminar of the season, CLIMACT is welcoming Sonia Seneviratne, Prof. at ETHZ, coordinating lead author of the 6th assessment report of the IPCC (2018-2021), and expert in climate extremes and land-climate interactions.

Changes in Climate Extremes: Why every year matters

This presentation will provide an overview of the main conclusions of the 6th Assessment Report of the Intergovernmental Panel on Climate Change (IPCC AR6), with a focus on changes in climate extremes. For the first time, a full chapter of an IPCC assessment report was dedicated to the topic of weather and climate extremes (Seneviratne et al. 2021).
The newest evidence shows that changes in extremes are observed in all regions of the world, and that human influence strongly contributed to observed trends. With every increment of global warming, changes in extremes become larger, with important implications for changes in heatwaves, heavy precipitation, droughts, and tropical cyclones depending on the region. The evidence on observed and projected changes in droughts and heatwaves has particularly strengthened in recent years. All regions are projected to be affected by multiple changes in climate extremes and other climatic impact drivers with increasing global warming, in particular at 2°C of global warming and above.
Limiting global warming to close to 1.5°C, as set as aim in the 2015 Paris Agreement, would be critical to avoid impactful increase in climate extremes, and would require immediate decreases in greenhouse gas emissions and fossil fuel burning. The latest evidence suggests that the first needed steps can be achieved but need immediate political action.

 
Organizer
Julia Steinberger, University of Lausanne
Athanasios Nenes, EPFL
Contact
Export Event