DATA IDEATHON | Crazy data-driven ideas for the campus of tomorrow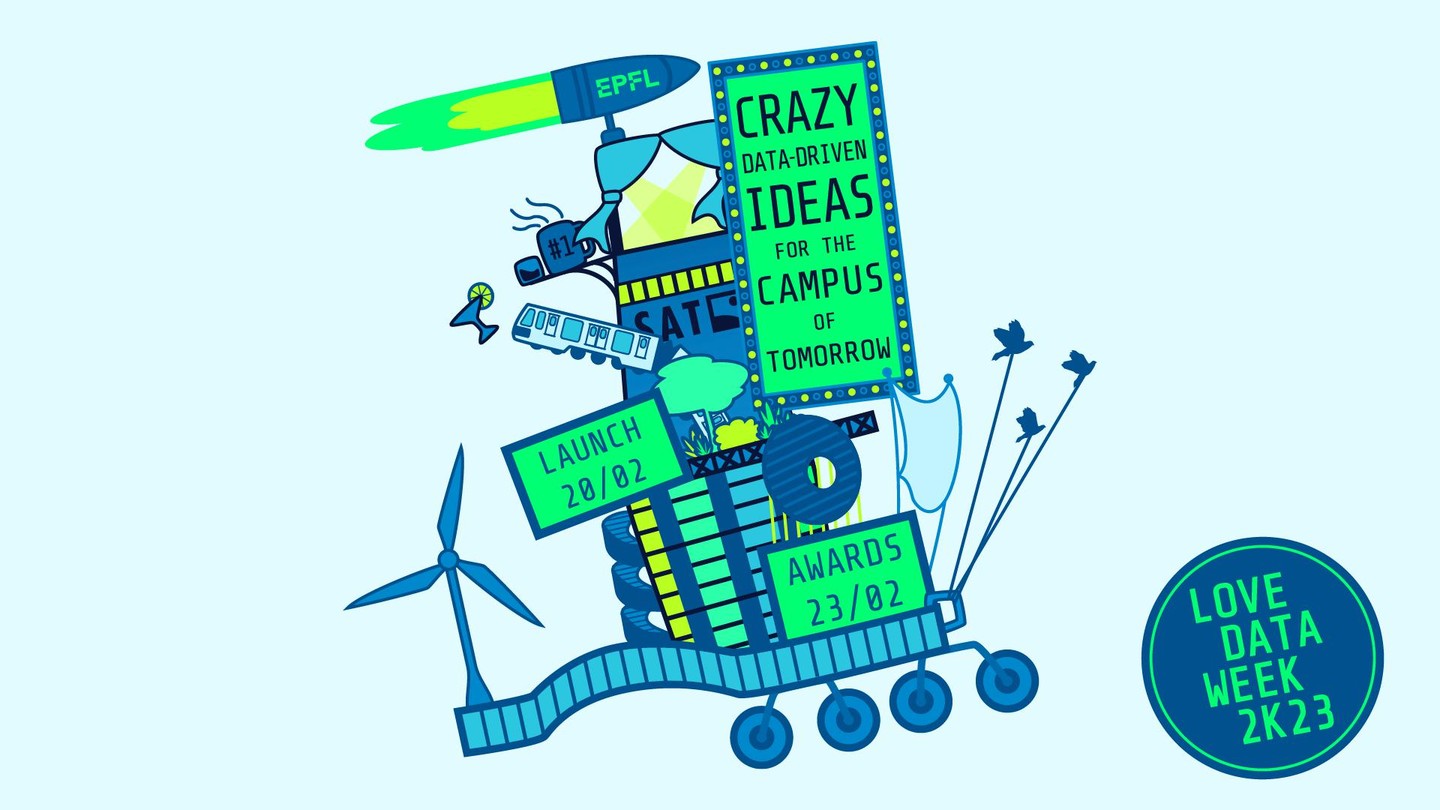 Event details
Date

20.02.2023

›

23.02.2023

Hour

00:01

›

23:59

Location
Category
Miscellaneous
Event Language
French, English
And the winners are...



First prize: "BookAIvent"
Monica Sanjuan Roman & Claas Klatte
https://go.epfl.ch/bookAIvent

Second prize: "SmartMenu"
Elliot Vaucher & Sunny Avry
https://go.epfl.ch/smartmenu

Third place: "Beer & Good Grades"
Bassel Abdelmassih & Mehdi Krichen
https://go.epfl.ch/goodgrades

___________

This event is organized as part of Love Data Week 2023 at EPFL.
If you wish to participate to the launch and closing event, make sure to register for both events!

Join the first Data Ideathon organized by EPFL Library. As we thrive to better support the management of your research data throughout the year, we now invite you to use data to push the boundaries of creativity.
What if you could access any type of data generated and collected at EPFL? Would you be able to craft sustainable solutions with this massive amount of data? The data you will use to shape your ideas may exist or not, may be accessible or not, and may be related to the theme of your choice: research, education, innovation, sustainability, climate, energy, transportation, food, recycling, housing, diversity, life on campus, etc.
Whether you are alone, a team, or with your lab fellows: come and play with your peers, show your talent, have fun and win awards!
 
Launch event: Let's think with data [ Presentation slides ]
Monday, Feb. 20 | 12:30-13:30 | Auditoire CM 1 1
It's the starting point of the Ideathon! A team of data experts from the Library will give you some examples of more or less crazy ideas that could be developed from data... You can then join a team, or run the idea race on your own during 3 days.
This event is open to everyone.
Register now
 
Closing event: Pitches and award ceremony
Thursday, Feb. 23 | 12:00-14:00 | BS 270
After 3 days of hard thinking, participants will have the opportunity to share their concepts or ideas in any creative form of expression: texts, slides, images, illustrations, short videoclips, prototypes, theatrical performances, etc. without any barriers of format to enable out of the box thinking. The only requirements: 3-minute English or French pitches.
The ideas will be reviewed by a panel of data experts from the Library. The 3 winning projects will receive rewards worth 500, 300 and 200 CHF.
Sandwiches and drinks offered by the EPFL Library.
This event is open to everyone.
Register now
Links
Practical information
General public
Registration required
Contact
Export Event
Event broadcasted in