ROHRWERK - pavillon sonore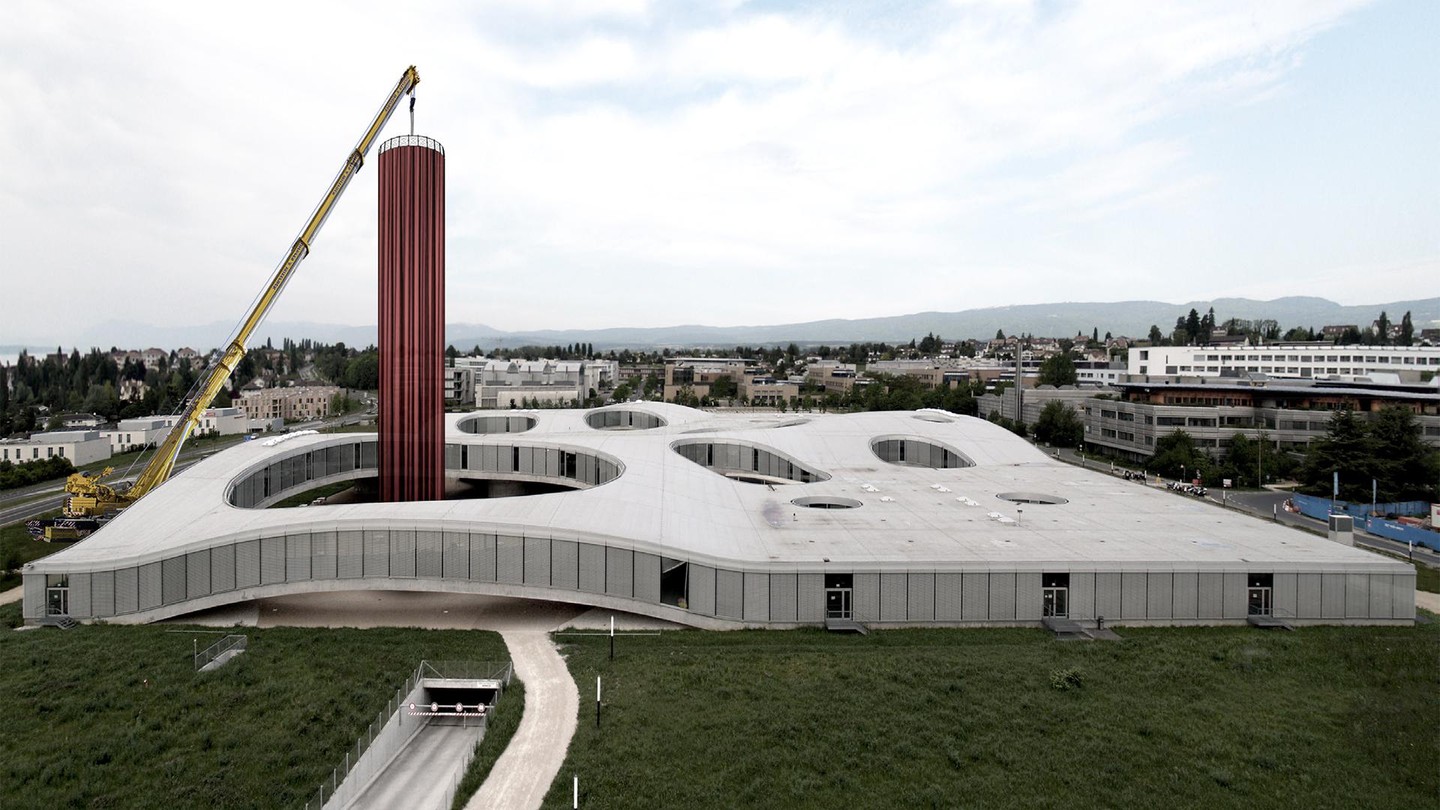 Event details
Date and time

21.09.2021

›

23.09.2021

–

12:15

›

21:00

Place and room
Speaker
Compositeurs: Beat Gysin (idée et concept), Nicolas Buzzi, Emilio Guim, Marianthi Papalexandri, German Toro-Perez et Denis Schuler Architectes: Bureau Made In (François Charbonnet et Patrick Heiz) Scénographe: Peter Affentranger Musiciens : Shuyue Zhao, Jens Bracher, Stephen Menotti, brise Anne, Jeanne Larrouturou - Studio-klangraum
Category
Cultural events
Rohrwerk is an open sound space, a 45m high pavilion designed as a musical instrument, imagined and realized by 6 composers, 2 architects, 5 musicians and a scenographer. Already installed in September 2019 at the Kunstmuseum Basel, it will be set up in the large patio of the Rolex Learning Center from 28 to 30 April and will host concerts, lectures and workshops over three days.

Program of public events:

21 September 2021:
12:15 Lunchtime Concert – music and demonstrations
18:30 Concerts: 18:30 "Framing"; 19:00 "Hangman's Chorale" and "Rohre ephemer": 20:00 "Untitled VII"
20:30 Group discussion and viewing
21:30 Sound installation: "Umlaute"
22 September 2021:
12:15 Lunchtime Concert – music and demonstrations
17:45-18:30: Performance by students of EPFL's Improgineering course led by Simon Henein, CDH-SHS
18:30-19:00 : Discussion with composer Beat Gysin and musicologist Constance Frei, CDH-SHS
19:15 Concerts: 19:15 "Umlaute"; 19:45 "Hangman's Chorale" and "Rohre ephemer"; 20:45 "Untitled VII"
21:15 Group discussion and viewing
22:00 Sound installation: "Lot"
23 September 2021:
12:15 Lunchtime Concert – music and demonstrations
15:00 Roundtable discussion on "Music and architecture" in room MED 01418. With composer Beat Gysin, Made In architect Patrick Heiz, Archizoom director Cyril Veillon, and architect Sibylle Koessler. Moderation: Constance Frei
18:00 Improvised performance by students from the Lausanne Conservatory (HEMU)
18:45 Concerts: 18:45 "Framing"; 19:15 "Lot" and "Rohre ephemer"; 19:45 "Hangman's Chorale; 20:15 "Untitled VII"
20:45 Group discussion and viewing
>Download the pdf program
Free admission

The CdH/Culture has followed this project since its genesis in 2017 and is now proposing it to EPFL. Conceived from the outset as an interdisciplinary project between music and architecture, it presents itself as an emblem of the joint action and reflection of researchers and artists capable of creating a new common object. As much a musical instrument as a sound pavilion, Rohrwerk is like a unique, totally original prototype that conceives music with architectural space and architecture as a musical instrument. It situates music in space and proposes a musical perception of architecture.

The architecture: Based on the musical idea of a space made of pipes, the architects of the Made In office in Geneva, in close collaboration with composers and musicians, designed an auditorium called "Rohre" (from the German Rohre = tubes). The walls of the pavilion are made entirely of tubes of different sizes. Rohrwerk's mission is to bring contemporary music closer to the people. The "Rohre" pavilion is a structure that can be seen from far away (its height is 45m) and is a spectacular attraction or a majestic sculpture that arouses curiosity. Designed for the outdoors, the architecture is inspired by the shape of the tubes and is made of tubes that become sound instruments that the musicians operate, complemented with other (wind) instruments grafted to the structure.

Tube sounds: Sounds resonate in seven large tubes, generating several resonances. Since each tube has precise dimensions, certain frequencies are amplified and generate new combinations. The use of electronics allows precise control of acoustic parameters such as delay, reverberation or feedback. Additional tones can be activated just as with organ pipes - by means of a fan or also electronically. Other pipes can be played by the musicians. They can be used with different mouthpieces (clarinet, trumpet, etc.) or struck like a drum. The whole space and the materials become a musical instrument.

Musical pieces: Rohrwerk is both a space for musical performances and a musical instrument. Without musicians it can simply play recorded sounds. Six composers have created sound pieces related to the instrument. Composing here meant planning a choreography for the musicians and linking the music to the space.

This is a project of studio klangraum in partnership with Société de Musique Contemporaine (SMC) Lausanne. Co-produced with ZeitRaüme Basel and ICST in collaboration with HEMU.
Organizer
Collège des Humanités - culture
Tags
architecture sonore
concert
musique
ateliers
exprérience musicale
Event broadcasted in