Students' health and health behavior during the COVID-19 pandemic in Switzerland. Dr. Julia Dratva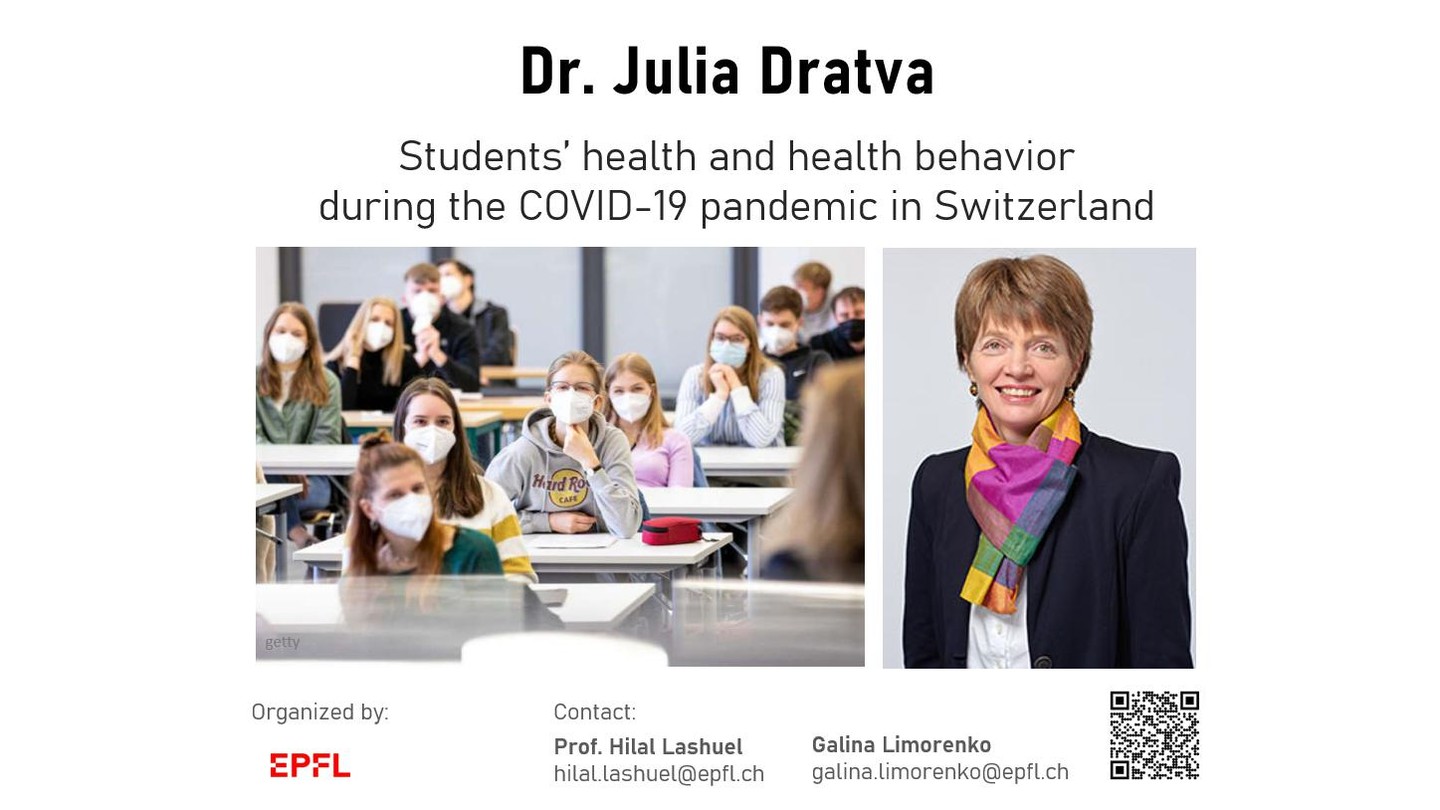 Event details
Date

26.01.2022

–

17:00

›

18:00

Speaker
Prof. Dr. med. Julia Dratva, MPH is a specialist in prevention and public health (FMH) and professor of public health at the Zurich University of Applied Sciences. There, she heads the research area Health Sciences at the Department of Health. She is also an associated professor at the Medical Faculty of the University of Basel, President of the Swiss Society of Public Health Physicians (FMH) and Vice President of the EUPHA Child and Adolescent Public Health Section. In addition to her research focus on "Children and Adolescent Public Health", she has a profound expertise in health monitoring and observational cohort studies.
Location
Online
Category
Conferences - Seminars
Event Language
English
Welcome to All for One and One for All: Public Seminar Series on Mental Health in Academia and Society. All for One and One for All talks shine the light on and discuss mental health issues in academia across all levels – from students to faculty, as well as in wider society. Seminars are held online once per month on Wednesdays at 5pm CEST/ 11am EST and free for all to attend. Speakers include academics, organisations, and health professionals whose work focuses on mental health. Live Q and A sessions will be held after each talk.
For live webinar schedule please visit: Upcoming Webinars
Follow us on Twitter: @LashuelLab
Watch previous talks on YouTube
Listen to previous talks as podcasts here and here

Our next conversation is with Dr. Julia Dratva. The Corona pandemic is impacting all age groups and areas of society, irrespective of the risk of exposure or disease severity. University students were confronted with abrupt changes by the COVID-19 lock-down both in their personal and academic lives. The "Health in Students during the Corona pandemic" study (HES-C) investigated the impact on mental health and general and COVID-19 related health behaviors, concerns and views from the April 2020 to June 2021. The study covers three pandemic university semesters with a total of nine surveys. The surveys reached roughly 70% of the student population at the University of Applied Sciences Zürich at least once and provides both cross-sectional as well as longitudinal data on mental health outcomes across the pandemic among other outcomes. The talk will mainly focus on the mental health of students, but will also touch on other health related aspects during the pandemic.


 
Links
Organizer
Prof. Hilal Lashuel, Galina Limorenko
Contact
Export Event
Tags
mental health
stigma
academia
neurodiversity
Event broadcasted in