The Applied Machine Learning Days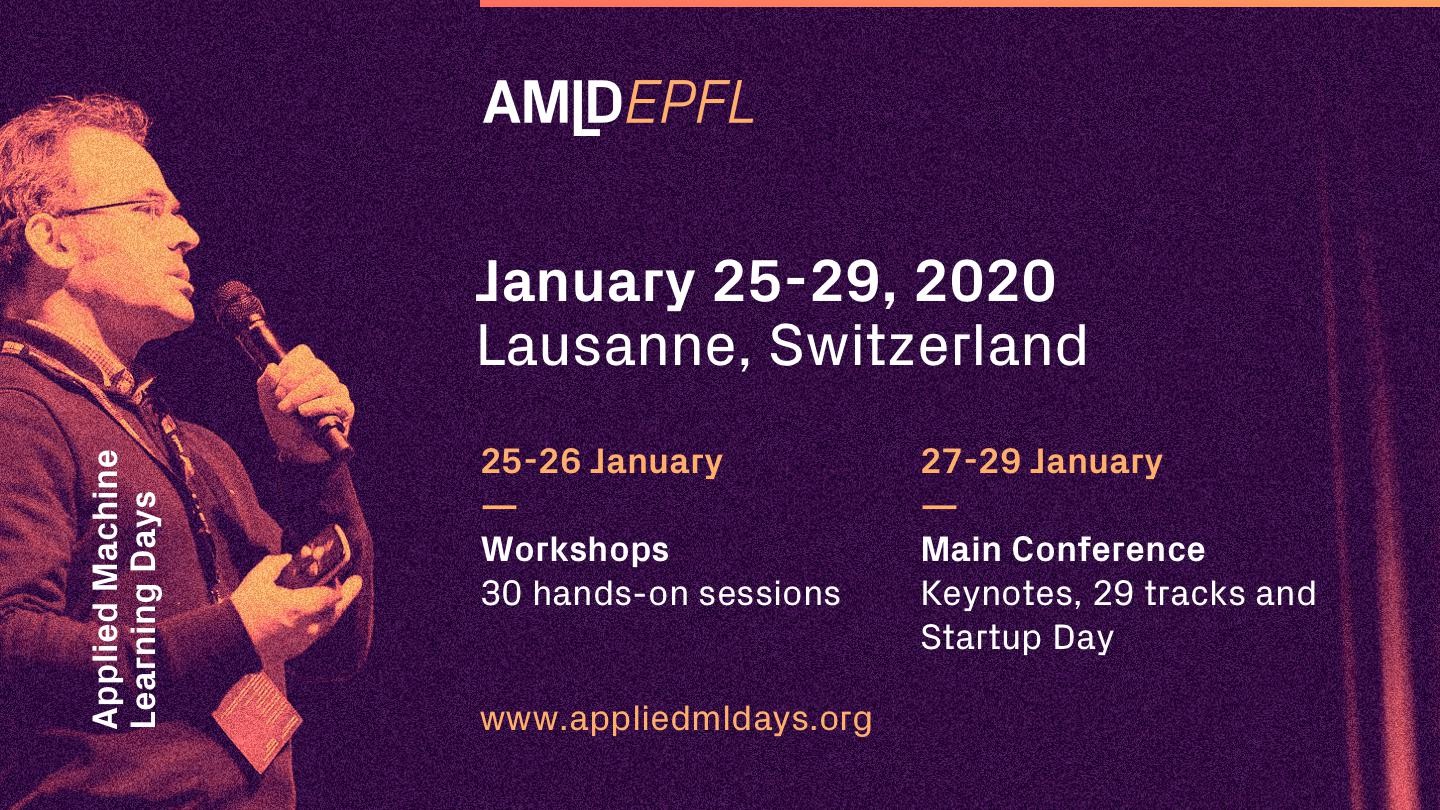 The Applied Machine Learning Days is one of the largest machine learning and artificial intelligence events in Europe. It focusses specifically on the application of machine learning and AI, making it particularly interesting both for industry and academia, thus creating a unique audience. For the fourth year in a row, we look forward to welcoming leaders in the fields of academia, business, and technology from the 25th to the 29th of January 2020 at the SwissTech Convention Centre in Lausanne, Switzerland.

The first two days of the event are focussed on hands-on sessions with over 30 workshops, training, coding classes, and tutorials. The main conference is taking place over the following three days and will uncover over 29 different topics. The first two days are focussed on more technical aspects of machine learning and AI hosting leading speakers in their field, poster sessions and, an exhibition. The third and final day is a novelty for this fourth edition of AMLD, this day will address how AI affects labour markets, hiring practices and jobs, and the political and social consequences of this reuniting experts in the field of business and technology. It will also host our very first Startup Day whereby our team will have selected very promising startups in AI and machine learning to exhibit at the conference and also to pitch. 

This years notable speakers include:
Max Tegmark Professor at MIT, David Autor Ford Professor of Economics at MIT, Danny Lange VP of AI and Machine Learning Unity Technologies, Christine McLeavey Payne MuseNet researcher OpenAI, Jakob Uszkoreit Head Google Brain Berlin.

The event wouldn't be complete without multiple networking opportunities, all lunches included in the ticket price and an evening cocktail to wrap up the conference. Registration is mandatory.
 
Links
Practical information
Informed public
Registration required
Organizer
Contact
Export Event
Tags
Artificial Intelligence
Machine Learning
Technology