Call for proposal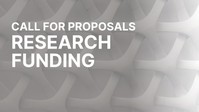 BRIDGE is a joint programme conducted by the Swiss National Science Foundation (SNSF) and the Commission for Technology and Innovation (CTI). It offers new funding opportunities at the intersection of basic research and science-based innovation, thereby supplementing the funding activities of the two organisations. BRIDGE Discovery is aimed at experienced researchers who wish to realise ...
Read more about "[ BRIDGE DISCOVERY – 3rd CALL | Research funding ]"

The goal of the FAMAE Foundation is to seek pragmatic, efficient, durable, universal and money-saving solutions to make life easier for urban citizens while reducing their environmental footprint. The Foundation launches annual international competitions to enable brilliant and innovative inventors to make their ideas come true or to effectively launch their product. The 2019 competition ...
Read more about "[ FAMAE Foundation - PRECIOUS WATER! | Proof of Concept & Seed funding ]"