CLIMACT Seminar Series - Pierre Kohler & Pia Furchheim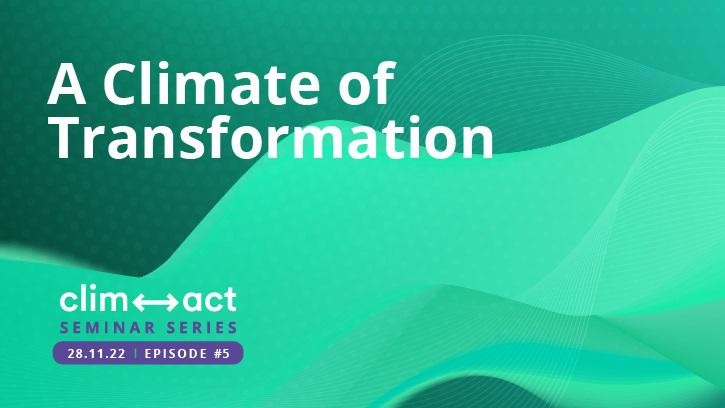 Event details
Date

28.11.2022

Hour

12:00

›

13:15

Location
Online
Category
Conferences - Seminars
Event Language
French, English
The CLIMACT seminar series "A Climate of Transformation" is an interactive online event. It takes place twice a month, every second Monday during your lunch break, with two new speakers.
Each episode aims to strengthen the dialogue and collaboration between key UNIL and EPFL scientists, swiss politicians, entrepreneurs and various actors from the civil society, through collective reflection.
A wide range of climate change-related topics will be discussed, integrating perspectives from all sectors and academic disciplines in order to generate new leads and initiatives towards systemic solutions.
Your expertise, ideas, critical thinking and vision for the future is essential. 
Join CLIMACT in the discussion!

Degrowth and socio-economic transformations: barriers and ways forward
Presented by Pierre Kohler I Member of Degrowth Switzerland
The presentation will define the concept of degrowth, explain why it is necessary and desirable. It will then discuss the main obstacles to degrowth as well as strategies for bringing about socio-economic transformations supporting a degrowth transition towards a post-growth society.

Why consumers not always walk their talk – Discussing reasons behind selective sustainable behavior
Presented by Pia Furchheim I Senior Lecturer and Researcher, Institute of Marketing Management, ZHAW
­Sustainability has arrived in the middle of society. More and more consumers try to be sustainable and consider sustainability as an important purchasing criterion. While the increased awareness is a positive trend, sustainable behavior does not translate into all areas of living/consumption. This resonates with the ongoing challenge of the so-called Attitude-Behavior Gap.
Despite its social and environmental relevance, sustainability is oftentimes limited to selected areas of life. While it is easy for us to be sustainable in some areas (e.g. food) and we are even willing to pay a premium price for the sustainable product, we find it more difficult to walk the talk in other areas (e.g. consumer electronics, travel).
The presentation aims to spark the discussion about how consumers make consumption choices and what role sustainability plays in various decisions. Considering that the consumption of products/services can offer multiple forms of value to the consumer (e.g. economic, social, hedonic, altruistic, etc.), one could approach the topic from a net-benefit point of view. When making decisions, we usually choose the option that promises the greatest benefit (e.g economic, social, hedonic, altruistic, etc.). Notwithstanding a consumer's general attitude towards sustainability, the importance he/she ascribes to sustainability in different consumption situations might vary. This understanding is important for companies offering sustainable alternatives as it demonstrates that emphasizing sustainable features might be beneficial in some domains, while this approach might fail in other domains.
Organizer
Julia Steinberger, University of Lausanne
Athanasios Nenes, EPFL
Contact
Export Event
Event broadcasted in