Call for proposal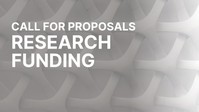 BRIDGE is a joint programme conducted by the Swiss National Science Foundation (SNSF) and the Commission for Technology and Innovation (CTI). It offers new funding opportunities at the intersection of basic research and science-based innovation, thereby supplementing the funding activities of the two organisations. BRIDGE Discovery is aimed at experienced researchers who wish to realise ...
Read more about "[ BRIDGE DISCOVERY – 3rd CALL | Research funding ]"
QuantERA is a consortium of national/regional research organisations supporting research projects in Quantum Technology. The 2019 call addresses the following topics: Quantum communication, Quantum simulation, Quantum computation, Quantum information sciences, as well as Quantum metrology sensing and imaging. Deadline for submitting pre-proposals and proposals: February 18th, 2019, 17.00 CET Thematic scope of proposals should include ...
Read more about "[ QuantERA Call 2019 - Research funding ]"